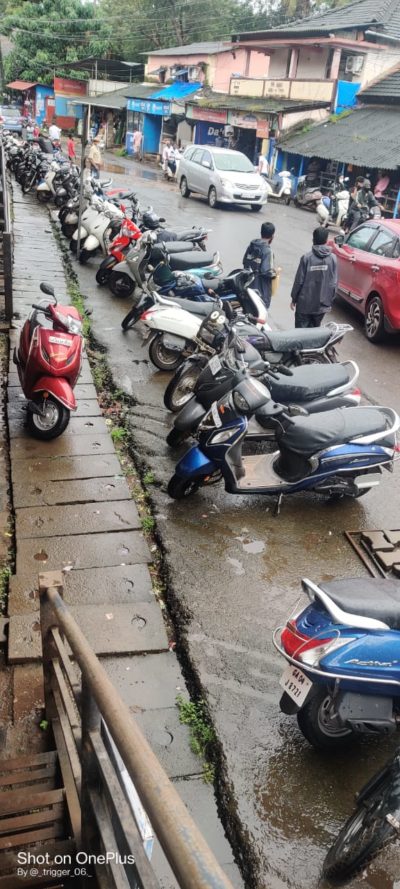 Goemkarponn desk
VALPOI: In the last few days, people have been thronging the Valpoi market for Ganesh Chaturthi shopping, and the city has witnessed heavy traffic jams and congestions.
The unruly parking and traffic mess has become a common phenomenon in Valpoi due to the negligence of Valpoi municipality, and the general public has to bear the brunt of this.
People have constantly been demanding planning, but the demands have met a deaf ear.
The locals say there are demands for streamlining the transport system of Valpoi city for the last ten years, but the municipality has not paid heed.
Locals say unless the traffic and parking are streamlined, Valpoikars will continue to suffer.
Municipal Council's planning to reduce congestion has remained only on paper, and there has been no implementation.
Slowly but steadily, people have also started blaming Health Minister Vishwajit Rane, local MLA, for neglecting the Valpoi mess.

Citizens say Valpoi is the primary market in Sattari taluka. Hence, the government establishments and markets are situated here, and many people from rural areas come to Valpoi for shopping and government work.
"It is essential to streamline the transportation system of Valpoi city, but no success has been achieved so far. The transport plan was submitted to the municipality by a social organization in Valpoi. If it had been implemented, the traffic planning would have been smooth. However, no attention has been paid to it yet. There is a lot of unruly parking in the central area of ​​Valpoi city," locals say.
They pointed out that employees park their two-wheelers in the central part of Valpoi town in the morning, disrupting traffic throughout the day.
"The situation is similar on Fatima Convent Road. As vehicles are parked on both sides of the Valpoi-Thane road, there are frequent traffic jams," they say.
Police said no legal action could be taken until the mobility plan is notified.
"Until the mobility plan is submitted, no punitive action can be taken against the driver and the owner of the vehicle," police sources said.
Meanwhile, Valpoi Mayor Sehzain Sheikh said that the previous Council had tried to make some arrangements but could not be enforced.
"Efforts have been made in this regard after the formation of Council. An important meeting was held recently in this regard," she said.
The mayor clarified that this implementation will be done after Ganesh Chaturthi.
Comment