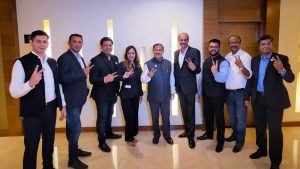 Goemkarponn desk
PANAJI: Vibrant Goa, based on the initiative of Vibrant Gujrat by the Prime Minister Narendra Modi, is all set to organize the Vibrant Goa Inspiration Awards 2023 on 9th July 2023 at the Darbar Hall, Raj Bhavan. This event will be set to honour individuals, professionals, and business houses across various different categories.
The Vibrant Goa Inspiration Awards 2023 is the newest addition to the Vibrant Goa legacy, which was introduced and implemented in Goa in 2019. The Global Expo was organized on a massive scale and attracted over 12,500 national and global delegates. This event aims to highlight the Goan business community and provide a gateway to the global business world.
Briefing the Media, Kamat, Chairman of Vibrant Goa, spoke about the success of the Global Expo in 2019 and the long-term vision of VG, saying "The success of the Global Expo was truly remarkable, and it has set the foundation for the long-term vision of VG. We aim to create an ecosystem fostering innovation, entrepreneurship, and sustainable development in Goa. We want to make Goa a technology, tourism, and export hub. The Vibrant Goa Inspiration Awards 2023 is a significant event that will recognize the efforts and contributions of individuals driving innovation, progress, and growth in various fields."
The event will be aimed at individuals making a significant impact in their respective areas of expertise, whether in business, industry, arts, or social welfare. By recognizing and honouring such individuals, these awards will empower people to strive for excellence, take risks, and pursue their passions.
The Vibrant Goa Inspiration Awards 2023 includes various awards in different categories, which are: Best Construction/Real Estate Company, Best Goan Tourism Brand, Best Goan Exporter in MSME, Exporter in Large Scale & Merchant Exporter, Best Goan Pharma Company, Best Institution in Business, Lifetime Achievement Award, Goan Sports Person making Goa proud, Young Goan Turk in Business, Male Entrepreneur, Women Entrepreneur, Non-resident Goan and Vintage Retailer.
Arman Bankley, President of Vibrant Goa, highlighted the rigorous scrutiny process to identify the deserving awardees with the help of an external panel of judges stating, "The awardees will be identified based on their outstanding contributions, achievements, and impact in their respective fields. The rigorous scrutiny process is processed ensures that only the most deserving awardees are recognized and that the award maintains its value and significance. The Vibrant Goa Inspiration Awards will also create a platform for individuals to showcase their achievements, share their success stories, and inspire others to follow their lead. Ultimately, the awards will not just be about recognition but also about empowering individuals to take charge of their future, make a difference in the world, and create a better tomorrow for themselves and their communities." He then opened the floor for the Q&A session, and the event concluded with a vote of thanks by Mr. Dinesh Dhulapkar, Trustee – Events.
Comment