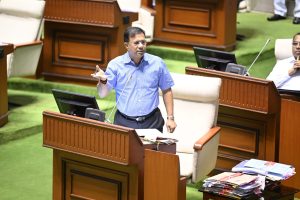 They're the worst liars, and they have no business being in Goa: Rane
Goemkarponn desk
PANAJI: Forest Minister Vishwajit Rane unleashed a harsh attack on NGO Goa Foundation, the petitioner in the tiger reserve case before the High Court, calling them "fraud" and "pain for the state of Goa," out of frustration over recurring incidents of a small number of NGOs blocking progress by approaching courts.
"Are you aware that this Goa Foundation is a pain for the State of Goa, as we, the members of this House, have said? They are completely wrecking Goa. In a progressive state like Goa, they are enforcing restrictive laws.
They should halt the growth of a progressive state. Do we actually need such components in the State? Rane questioned on the House floor.
They're the worst liars, and they have no business being in Goa. The fact that these NGOs are not from Goa must be understood, he continued.
Rane claimed that the NGO still needed to file a lawsuit because they initially tried to stop mining.
Rane continued, telling Yuri Alemao, leader of the opposition, "These elements, whom you are glorifying today, will haunt you someday."
According to Rane, it is their responsibility as duly elected representatives to enact laws and manage the State. "We are here to manage the country, not because someone filed a lawsuit because he has a personal stake in it. What do you want to do in the end?
He said, "These are basically frauds."
The Minister refused to retract his remarks and insisted that he had no regrets about making any negative remarks about members of the NGO and civil society.
"I am not going to retract what I am saying, and I stand by what I am saying. I have no regrets. If these NGOs wish to rule the State and seek office, he said.
The opposition, led by its leader Yuri Alemao, as well as the GFP's Vijai Sardesai and the AAP's Venzy Viegas, strongly objected to the minister's statement and requested that he retract it.
Yuri and Vijai stated, "It is only due to GF that today the State is projected to collect a lot of revenue from mining…about Rs 45,000 crore.
Venzy argued, "GF is a highly respectful NGO and the Minister ought to take back his statements.
Comment