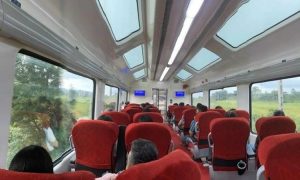 Goemkarponn desk
MUMBAI: Beginning on Friday, April 14, the Tejas Express train between Mumbai and Karmali in Goa will have a second Vistadome coach, said Central Railway authorities. While travelling, passengers can enjoy a larger, unhindered view of the surrounding landscape thanks to the Vistadome carriage.
On rail stretches between Mumbai and Pune as well as in Goa, these coaches, which are renowned for their large windows and clear roofs, have grown in favour among passengers. the picturesque Konkan region, with its rivers and breath-taking waterfalls.
The Mumbai-Karmali Tejas Express had one Vistadome coach attached in September 2022. Officials confirmed this on Tuesday, however with the recent addition of a second Vistadome carriage, it will now be the first train in India to feature two of these coaches.
In addition to 11 AC chair cars, one AC executive chair car coach, two luggage coaches, and a generator-cum-brake truck, the Mumbai-Karmali Tejas Express will now have two Vistadome coaches, according to an official statement from the Central Railway.
Other attractve features of the Vistadome coaches on the Mumbai-Karmali Tejas Express include LED lighting, rotatable seats with pushback chairs, a GPS-based information system, electrically operated automatic sliding compartment doors, wide side sliding doors for easy access for people with disabilities, and clean restrooms with ceramic tile floors.
According to railway officials, one of the most popular features of these coaches is the observation gallery, which has large glass windows on three sides. Passengers adore taking selfies and photos from this area.
Comment