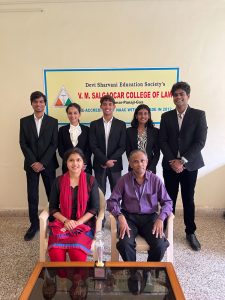 Goemkarponn desk
PANAJI: The students of V.M.Salgaocar College of Law (VMSCL), Miramar comprising the team of Mr. Joshua Camilo Noronha Dias from 5 th Year BALL.B., Mr. Clive Leroy Fernandes, Miss Raisa Mariette Pinto, Miss Lamisah Vasim Almeida and Mr. Sean Julian Gomes all from 3 rd year BALL.B. participated in the Asian Institute of Alternative Dispute Resolution (AIADR) Mediation and Negotiation competition and were awarded the 2 nd Runner up trophy.
The preliminary rounds were held in virtual mode on 23rd and 24th September, 2023 and the only Indian VMSCL team was selected to participate in the subsequent rounds that were conducted in physical mode in Malaysia on 1st October, 2023. The Asian Institute of Alternative Dispute Resolution (AIADR) located in Kuala Lumpur Malaysia is dedicated to promoting the practice of Alternative Dispute Resolution (ADR) through affordable and accessible development of the profession throughout the Asian and African Continents and reaching out across the globe. AIADR is an all-inclusive think tank of the future for the development of jurisprudence related to swift and private settlement of disputes.
The competition organized at the Institution brought together a wide variety of teams that belonged to six different countries, namely, Hong Kong, China, Singapore, Indonesia, Malaysia and India.
The competition was open to both students and professionals which raised the standard of performance expected and assessed. For the semi-final and final rounds, the competition sessions were held in the AIADR Centre, Kuala Lumpur which is a specialized complex devoted to providing professional services in the field of ADR. Generally, litigative methods are set aside during the mediation and negotiation process.
It is commonly used in various legal contexts, including business disputes, family matters and civil cases. As Second Runner-Up, VMSCL team was awarded with a cash prize of 300 RM along with a Trophy.
Post the final round, the teams were invited for a grand dinner for the purpose of networking with the expert judges at the Pavilion Centre Kuala Lumpur.
This provided the teams with immense exposure and knowledge expansion opportunities. The teams had the prospect of interacting with experts and professionals in the field of Mediation and Negotiation who gave them insights into the real world process.
Comment