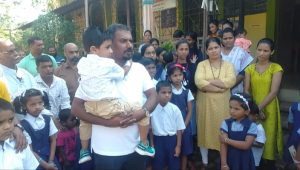 Goemkarponn desk
PONDA: On Goa Liberation day, Wadi-Talavalim Locals warn to boycott government Primary Schools in protest against forceful erection of a mobile tower over the Bhedshem government Primary school.
"Is the government targetting closure of Government Primary Schools in the name of the forceful installing mobile tower over school premises?" The locals questioned.
They added that are Goans liberated as the government forcefully installing tower on schools without considering their views.
"This shows that government wants to close the primary Schools as locals will remove children if the tower is erected in the school," they say.
The locals said although they were ready to show an alternative site for the erection of the mobile tower, the Contractor and officials were not ready to listen to them.
Today morning the locals were shocked to see that the mobile Company damaged the backside compound wall of the school with help to enter in School Premises and started digging a pit for the foundation of the mobile tower without keeping any setback behind close to the school walls.
The parent said, on the one hand, the government urges locals to send children to school and, on the other hand, attempting to erect the tower.
Parents said if the tower is erected they will remove their children from school.
Shanudas Sawant, the office-bearer of Mahalaxmi Highschool, condemning the incident, said being office-bearers of one School in the area, he is very much concerned about it.
He said the radiation from the mobile tower would be harmful to health.
He said he strongly opposed the erection of the tower. "We have promised to show alternative sites, but the Mobile company is installing a tower in the school. This indicates that the government itself is responsible for the closure of this school," he said.
Comment