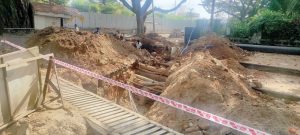 Goemkarponn desk
PANAJI: Former Corporation of the City of Panaji (CCP) Deputy Mayor and current Councillor Vasant Agshikar today has written to the CCP Commissioner requesting him to waive off pay parking fees in Panaji until Imagine Panaji completes road works in most parts of the city
"Road closures, diversions and works going parking space have shrunk in the city causing inconvenience to the commuters. I feel waiving off the pay parking fees for a few months will give some solace to the Panajimites," said Agshikar
He further said that he understands Panaji's infrastructure needs a revamp and upgradation for a better tomorrow.
"However, I have requested Commissioner to use his good offices to ensure works are completed on time without compromising on the quality,"
he said.
Currently, all major roads in the capital city have been dug up, causing hardships to motorists and the general public.
The project aims to rectify the old Portuguese time drains to increase water flow and prevent water stagnation on 18th June Road.
CCP Mayor Rohit Monserrate said that the laying of sewerage lines has been taken up along the Dada Vaidya road at the request of citizens.
"By June next year, everything has to be completed," he said when asked about the project's deadline. The Union Ministry of Urban Development is also monitoring the works undertaken under the Smart City initiative," he said.
Comment