Goemkarponn desk
CANACONA: Water, Electricity and Roads were the main demands raised at the first Gramsabha after the general Panchayat elections on Sunday.
Members, in fact, listed out not only demands but called for improvements in Water-supply, Electricity and Roads infrastructure in the village of Agonda from almost all the Seven Wards.
Sarpanch Fatima Rodrigues informed the members that a Toilet -cum-changing Room block was coming up on the beach and assured members that whatever issues and problems raised will be resolved in a phased manner in cooperation with the government. 'I expect full support and cooperation of our MLA/Speaker Ramesh Tawadkar to obtain for us maximum mileage.
Earlier, raising a slew of demands, different members asked the newly elected panchayat to the neglected road network in the village. 'We have a road which is not touched for the last 15 years, besides another road, where just tar in the form of cow-dung is applied.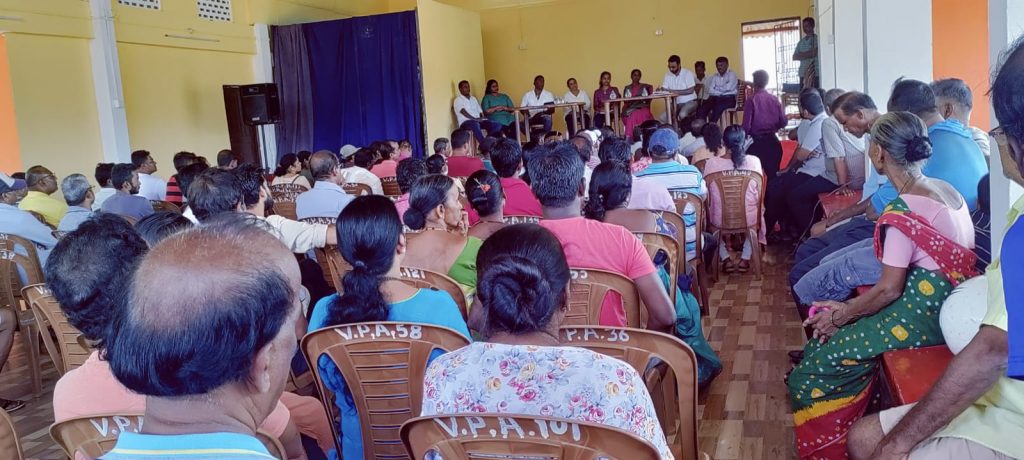 Concern was raised on Garbage collection, as a member asked to raise the frequency of garbage collection.' Only once a month, panchayat-engaged personnel visit certain areas to collect garbage, so people have no choice but to dump it anywhere or everywhere. Please increase the frequency of garbage collection. Besides, some people are seen misusing the garbage site,l by dumping even their commercial discard outside the garbage site.',
Stating electricity fluctuations are destroying people's costly appliances, members demanded immediate underground cabling of 11 kV alignment, sufficient Transformers and a dedicated Electricity Sub-office and staff at Agonda. The present one with limited staff and vehicles has a vast area, including Khola, and it takes even a fortnight to attend to people's problems as the staff remains busy elsewhere. Agonda has its own two sources of water, like Deva-talem and Mudkud, besides getting treated water from Chapoli Dam, but still, Agonda is getting muddy and dirty water and that too only for 2-3 hours on alternate days. People also demanded replacement of old and rusted pipeline and demanded setting up of PWD (Water-supply) Office or a complaints section in the village to attend to consumers issues.'Presently, we have no option, but whenever we have to complain, we have to look out for them in some restaurants and bars.', complained a member.
Demands were made to put up streetlights in certain areas where no streetlights had reached, and the roads remained in darkness.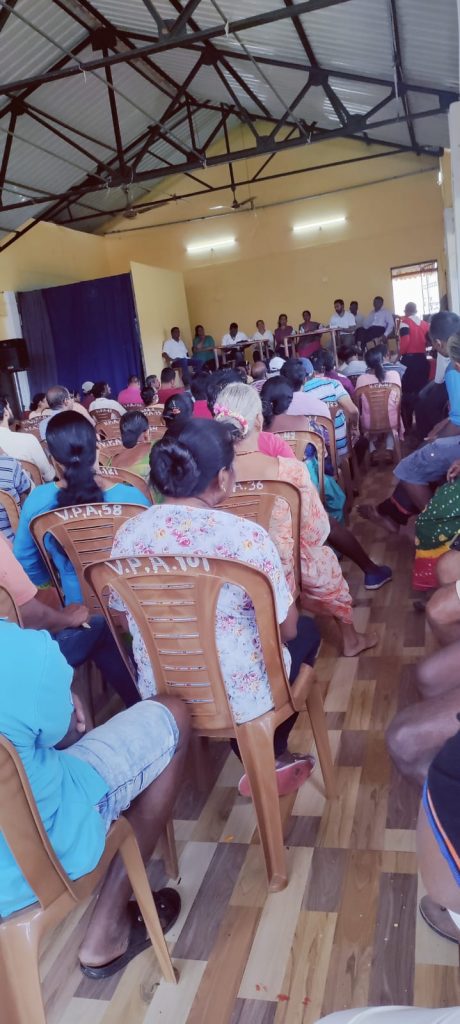 Demands were made to desilt tributaries of Agonda river at Guravol and Voile-Agond, besides putting up an additional Bhandara at Voile-Agond and securing the river borders with retaining walls.
Ex-sarpanch Shabha Naikgaunkar stated the only crematorium is in bad shape and calls for repairs of its broken compound walls and other maintenance works on an immediate basis.
Demands were made to add new books in the taluka library, construct flood- Gutters, and Stray cattle hampering road traffic and responsible for several accidents.
A resolution was sought to be passed not to provide new licences or permit new Hotels/Resorts in Agonda until the residents are provided with 24×7 Water-supply and uninterrupted Electricity supply.
Questions were raised as to why the works on the road from Panna to Church have not started though funds, tender and even work order is issued for the same. mud to Betul road, Parvem -Chaktem – Desaiwada road, Aframent to Tourem-Moll,.
Demands were made for Speed-breakers and rumblers at various spots where vehicles are racing, endangering not only pedestrians and other motorists but threatening the safety of students, especially during tourism season.
Importantly, a member Roy Fernandes questioned the panchayat where is the road to go to the beach of Agonda. Fernandes's question assumes significance as there is no public road anywhere on the 2.8km long Beach of Agonda.
Another member Nitin Desai stating panchayat in the past has earmarked a road to the beach for immersion of Ganesh Idols and demanded the panchayat should develop the same road as public access to the beach.
Questions were raised about the unregistered garbage vehicle being operated by the panchayat.
Panchayat Amol Naikgaunkar, Secretary, informed the vehicle is provided by Goa Waste Management Corporation, and the same agency has assured to compete for the vehicle registration shortly.
Navnat Naikgaunkar, Peter Fernandes, Kiran Naikgaunkar, Francisco Counthino, Joaquim Fernandes, ex-Panch Agnelo Fernandes, Melvyn Fernandes, Vinod Phaldessai, Nandkishore Phaldessai, Albert Fernandes, Honorato Fernandes, Savio Cipriano Fernandes, were amongst some of the members who took part in discussion at the well attended Gramsabha. Interestingly, while a lone panch Nilesh Pagui from Dhawalkhazan ward failed to attend the first Gramsabha was attended by Dy Sarpanch Preetal Fernandes, panch Ramnath Velip, John Fernandes, Karuna K Phaldessai and Canisha Fernandes.
Canacona MLA and GLA Speaker Ramesh Tawadkar were present at the fag end of the Gramsabha, and after sarpanch, Rodrigues adjourned the Gramsabha, Tawadkar spoke to members.
Comment