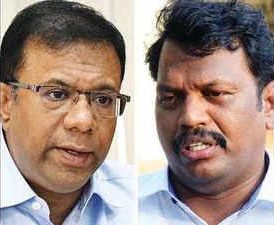 Goemkarponn desk
PANAJI: Leader of Opposition Michael Lobo today said that he will approach the court if the authorities revoke the sanads issued.
Lobo also charged TCP Minister Vishwajit Rane with targetting him personally.
"Every term, a minister will come and say that the previous ODP is wrong; the CTP during the last term was the same, and if it was wrong, why did he approve it. Some are poor people; if their sanads are revoked, they will approach the court, and I will support them financially," said Lobo.
Lobo also alleged that newspapers and channels are used as a medium to target certain sections of society.
"Such decisions by the minister and the state government scare the businessman, and accordingly, people lose faith in the government," he added.
LoP further said that Old Goa will lose the UNESCO tag if the government allows grants of 400 FAR for attaining a satellite town.
"Rane is just tweeting on Twitter and also on FB thinking he is a saviour, but he is not; each minister will change the plan after every new government," he added.
"TCP minister Vishwjait Rane is personally targetting me, which is not right in politics; I am a businessman before I could become the MLA; He has already filed a case wherein I have shown that land is used for farm purposes,' said Lobo.
He further said that this is vindictive politics and that he had explained the entire issue to Chief Minister Pramod Sawant, but he was quiet on the subject.
"Those in the opposition are always targeted; it is politics; in regards to ODP, he can do any changes he is the TCP minister," Lobo said.
Meanwhile, Lobo claimed that Chief Minister Pramod Sawant should intervene, claiming that if he was in the BJP, there would be no FIR against him.
Comment