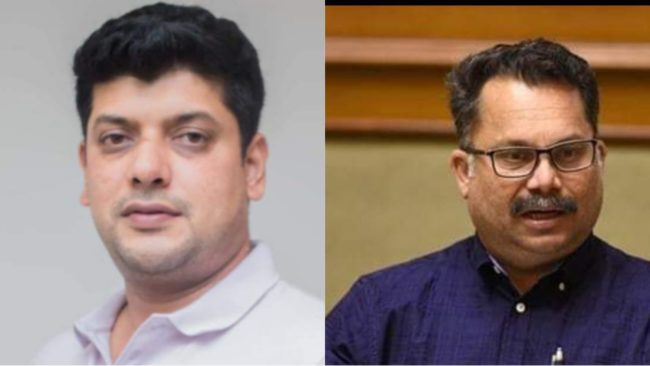 Goemkarponn desk
CURCHOREM: This year, the political environment in Curchorem changed abruptly in last four days before the election day.
People of Curchorem constituency are uncertain whether they will be see the new MLA or once again Cabral will win.
This election, Curchorem people had multiple choice but it is most likely that people will see BJP is in power at centre and in state. The recent visit of Congress leader Rahul Gandhi in Curchorem has also changed some people mindset who were former Congressmen and later joined BJP after twice Congress continuously got defeated in Curchorem. But this time Rahul Gandhi's arrival in Curchorem might play as a turning point.
BJP candidate Nilesh Cabral was dominant in Curchorem politics for last ten years. Nilesh Cabral has remained in the talks of the Curchorem people. But surprisingly in last five days before the polling day Amit Patkar name started getting compared with the Cabral as a direct opponent for this assembly election.
Although one can't deny the fact that Nilesh Cabral, BJP's Curchorem candidate was one of the few names in Goa's politics that was counted among the sure shot winning candidate. but now it is hard to say who will win in Curchorem.
During the time of campaigning, the picture that came out was that there would be an huge winning margin. Cabral had also said during the campaigning that he would get a big margin victory.
But now no one can predict when the situation in politics will change and who will get elected.
In the last five days of the election, the wave turned in Amit Patkar's and Congress's favor. The post-poll talks are all about the battle between both the BJP and the Congress.
Nilesh Cabral had told reporters on the eve of the polls that the turnout in the last few days was not as high as I had hoped and predicted, but that the lead would be slightly reduced.
"There is no doubt about it that we will definitely win," Cabral said.
On the other hand, who has been trying to make the Curchorem vibrant in last six months,Congress's Amit Patkar, during election campaigning had openly challanged Cabral on the incomplete projects and debated during a public debate which took place in Curchorem Ravindra bhavan.
Also, on the day of polling, Nilesh Cabral and Amit Patkar were as vocal ,and both are confidence of victory ,but only time will tell who will be victorious.
Comment