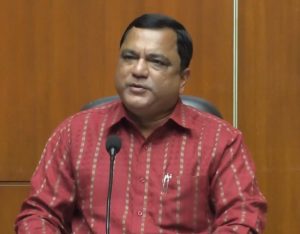 Goemkarponn Desk
VASCO: Stating that he would move a file for authorities to compel coal handling industries to put a full-proof anti-pollution measures in place, Panchayats Minister Mauvin Godinho, however, hit out at those who were agitating to revive their political careers.
"I think the central government has given directions that while they have allowed the enhancement of coal handling, there has to be absolutely no pollution and this has to be ensured by local government agencies like the Goa State Pollution Control Board," said Godinho.
"I am going to pitch with all authorities and move a file to insist that they compel these industries to put full-proof anti-pollution measures required to handle more coal. The JSW has done it in Jaigarh port and this has stopped the massive agitation by locals who were not allowing coal handling there."
"They put a dome-like structure and the additional investment that the JSW had done for the dome was recovered in less than 5 years because the coal dust that used to fly and cause pollution was contained in this dome structure. In fact, they landed up saving in the process," said Godinho.
"We just can't stop anything and everything for the sake of it because people can't survive without economic activity that creates jobs and contributes to the progress. The other side is to make the companies spend on world-class anti-pollution measures and we are moving in this direction."
Godinho claimed that the agitation against coal has become a fashion for people who have gone out of power and out of favour with any dispensation.
"When they see so much progress, they are bound to have an agitation in mind to instigate the people but ultimately it goes against the larger interest of society. I appeal to these people that they must agitate only if they are convinced that there is a real serious issue and we will pay heed to it. But agitation must not be done to revive lost political careers by bringing people on roads," said Godinho.
Comment