MLAs of SIOLIM
1963: Pandurang Purushottam Shirodkar MGP
1967: Punaji Achrekar MGP
1972: Chandrakant Chodankar MGP
1977: Chandrakant Chodankar MGP
1980: Chandrakant Chodankar Ind
1984: Ashok Salgaonkar Naik MGP
1989: Ashok Salgaonkar Naik MGP
1994: Chandrakant Chodankar MGP
1997: Dayanand Mandrekar BJP
2002: Dayanand Mandrekar BJP
2007: Dayanand Mandrekar BJP
2012: Dayanand Mandrekar BJP
2017 Vinod Palyekar GF
2022 ???? ??
Siolim voters
Male 14230
Female 15191
Third gender 0
Total 29421
Goemkarponn desk
SIOLIM: After much wait, the Lobo's were finally inducted into the Congress on Tuesday night.
It is clear from reports that Michael Lobo will contest from Calangute while Delilah Lobo would be the Congress candidate from Siolim.
Delilah's ticket was one of the main reasons why two-time Calangute MLA Michael Lobo quit the Bharatiya Janata Party (BJP).
Delilah started her work in the constituency around three months ago and is way ahead of her rivals in terms of door-to-door campaigning, corner meetings, etc.
With the Election Commission now imposing restrictions on the rallies and meetings, it surely Advantage Delilah as she has almost finished all her meetings.
There is already uncertainty over the Goa Forward ticket for sitting MLA Vinod Palyekar as the Congress has already forged a pre-poll alliance with the Goa Forward, and the ticket is promised to Delilah Lobo. So it is still unsure on which parry ticket Palyekar will contest from or go independent.
Speaking to Goemkarponn, though, Palyekar said he will definitely contest elections.
"I will let you know on which ticket. Currently, I am in Goa Forward, and I have not been told that I am not getting a ticket. So the question does not arise," he said.
On the other hand, BJP's four-time Siolim MLA Dayanand Mandrekar was considered a firm favourite to win the seat again after losing to Palyekar in 2017. But to his bad luck, Delilah has thrown her hat into the ring.
Another challenger in Siolim is Anjuna Sarpanch Savio Almeida, who could split the minority votes, which could be decisive.
An important factor is the Revolutionary Goans and Aam Aadmi Party; they too will play a crucial role and could upset the applecart of both Delilah and Mandrekar.
Since June last year, Delilah has been active in Siolim and has helped the people with ration and groceries during COVID19, a gesture missing from other leaders.
Knowing Michael Lobo, he has also helped the Siolim youth during Ganesh, Diwali, Christmas and the local sports tournaments.
A survey in the constituency reveals Delilah is a firm favourite for now, but only time will tell when it happens on Valentine's Day.
While the popularity is with Delilah, the history is against her.
Congress has never won the elections in Siolim.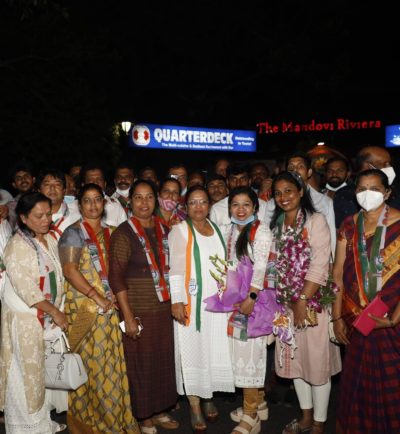 From 1963 to 1994 Maharashtrawadi Gomantak Party has been a dominant force in Siolim, but today they even fail to get a candidate.
Pandurang Shiorodkar (1963), Punaji Achrekar (1967), Chandrakant Chodankar (1972, 1977, 1980, 1994), Ashok Salgaonkar Naik (1984 & 1989) have won for MGP. Chandrakant Chodankar also won in 1980 as an independent.
Thereafter, from 2002 to 2012 (four terms) Dayanand Mandrekar has dominated the Siolim politics.
However, the anti-incumbency, anti-people decision, and wave against BJP accounted for Mandrekar's downfall in 2017, when Palyekar won.
While Delilah seems to be a formidable contender, the people's reservations are that Siolim should not go the way Calangute has.
"We have seen what mess has happened in Calangute. The haphazard development, the migrant influx, the unruly tourists. We do not want such a thing to happen to our village, which has maintained its identity till date," said a Siolim resident, speaking on condition of anonymity.
Nonetheless, he said, Michael Lobos entry would help the constituency solve its major issues like water, electricity, and better roads.
"We have seen him work in Calangute, but at the same time, we have to be cautious," he says.
Comment