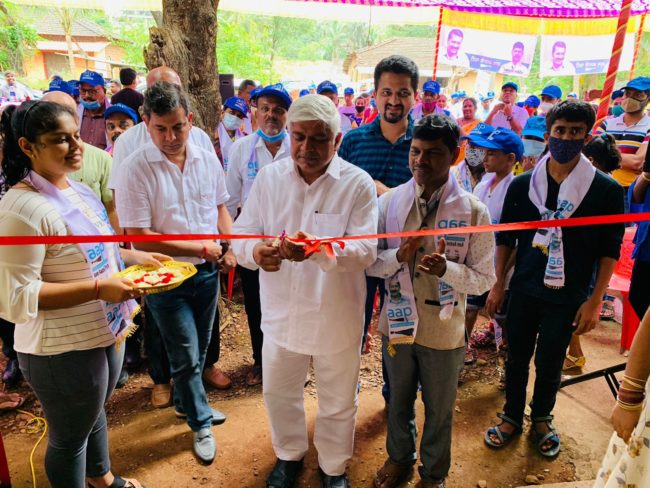 Goemakrponn desk
PANAJI: The Aam Aadmi Party unveiled three new offices on Sunday, ahead of assembly elections. The new offices were opened at Poriem, Aldona and Sanvordem.
While addressing Poriem residents after the inauguration, AAP leader Vishwajeet K. Rane said, "The MLA of Poriem constituency has been the Chief Minister for 15 years, and he is the one who served as Chief Minister of Goa for the most. Despite this, he had not undertaken any development work in so many years. I feel Arvind Kejriwal's vision alone can transform Goa. Poriem need a change, and the AAP will work for the change".
Secretary of Gomantak Gaud Maratha Samaj Anil Gaonkar from Sanvordem constituency said, "we have been receiving good responses from the Savordem Constituency for the AAP. Delhi CM Arvind Kejriwal is man of words. He fulfilled every promises that he made before the elections in Delhi. Many are impressed by his vision. If his vision can change Delhi, it is also possible in a small state like Goa. I urge people to vote for AAP, who will provide honest governance in the state".
AAP campaign committee chairman Dayanand Narvekar said, "I had started one government job in each family scheme in 1980s when I was in the Congress party. Impressed by the scheme, then PM Indira Gandhi suggested starting the scheme in other states. I was able to provide 1500s jobs. Over the years, the scheme get sidelined. But, now AAP has come up with a similar scheme. Because of this, I joined AAP".
He said, "Goa need honest governance. Today, the government is doing corruption in everything. They have done it in the construction of the roads and even during Covid times. The government is also failed at providing good education infrastructure and employment. According to a media report, more than 300 schools have single teacher. Recently, three murder complaints have been registered in Aldona within three months. Aldona was a peaceful place but today everything is changed. We have to introspect and need to chose a party which will provide honest governance. Only AAP can transform Goa".
"The new offices will be open from morning 9 to evening 5. Residents will now easily be able to reach out to the party leadership via this office. People can come to the office anytime if they need help for official work to avail government schemes. People from the constituency can approach the office and do their registration for job guarantee programme, electricity guarantee programme, free pilgrimage programme and other guarantee programmes of AAP that will be declared in the future", said AAP Goa Convenor Rahul Mhambre.
Comment