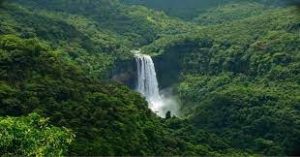 Goemkarponn desk
PANAJI: The Principal Chief Conservator of Forests (PCCF) today has permitted public entry to 14 low-risk waterfalls in Goa.
The order was issued today. It mentions 11 waterfalls in Mhadei Wildlife Sanctuary & One each in Bhagwan Mahavir Wildlife Sanctuary, Cotigao and Netravali.
Mhadei Wildlife Sanctuary- Pali, Hivrem, Charavne, Golauli, Gunguldem, Chidambaram, Naneli, Ukaichee Khadee -Kumthal, Kumthal, Madiyani-Gululem, Khadee-Gululem all from Sattari. Bhagwan Mahaveer Wildlife Sanctuary – Maida-Collem, Netravali Wildlife Sanctuary – Bhati-Netravali and Cotigao Wildlife Sanctuary – Kuske-Cotigao.
The ban came after recent fatalities and heavy rainfall, which led to the closure of roads leading to the waterfalls. Despite the absence of official permissions for trekking activities this season, certain individuals persisted in trekking illegally, disregarding the regulations.
Previously, this month there had been several reports of drowning in the lakes and waterfalls of Goa. Many other accidents including landslides and flash floods, have also from the state.
In order to prevent and mitigate any such incidents, the authorities banned trekking and visiting waterfalls, lakes, canyons, open mines etc, owing to the accessibility and remoteness of these locations. Many trekkers said they were unaware of the ban enforced.
Consequently, there had been demands from the government and forest department to implement stricter regulations for accessing wildlife sanctuaries, particularly on weekends.
The objective is to strike a harmonious balance between enabling visitors to appreciate the natural splendour and ensuring their safety throughout the monsoon season.
Earlier, a 55-year-old LIC officer from Mapusa, Janardhan Sadekar, and a 24-year-old engineer Shivdutt Naik drowned after they visited the waterfalls.
They went to the Mainapi waterfalls for an excursion as part of separate groups and were pulled in by a strong current.
Following the accidents, a rescue operation was launched and police teams, fire department and forest guards were sent to retrieve their remains.
Comment