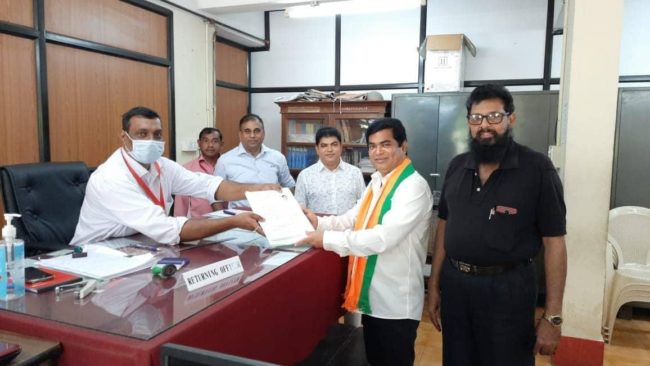 Goemkarponn desk
QUEPEM: 16 nomination forms from Curchorem and Quepem constituency were filed in the Quepem Mamlatdar office.
As per the information given by Quepem Mamlatdar Prataprao Gaokar,
The first application from Curchorem was filed by Kudchade MLA Nilesh Cabral on the first day itself, after which a total of eight applications have been filed.
Out of eight, five new faces for the Curchorem constituency will be contesting for the forthcoming Assembly elections, such as ex-councillor of Curchorem Cacora municipality Anand PrabhuDesai, local businessman and Vibrant Curchorem convenor Amit Patkar.
Aam Aadmi Party (AAP) candidate Gabriel Fernandes, Contractor from Xeldem panchayat area Ajay Boyer and Revolutionary Goans Aditya Desai, are among the young personalities.
In Quepem, out of eight, three new faces have filed nominations from Quepem, namely Congress candidate Elton DCosta, Revolutionary Goans candidate Vishal Desai and Trinamool Congress candidate Kanta Gawde from Pirola constituency, who has been imported from Priol constituency to contest in Quepem constituency by Trinamool Congress party and BJP's Babu Kavalekar.
Comment