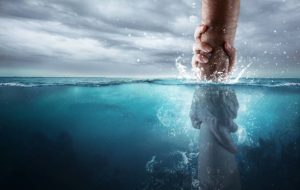 Panaji: With tourists making a beeline to Goa over the long October 2nd weekend, Drishti Marine lifesavers saved 17 people from drowning off the coastline during the busy period, with 14 people rescued at the popular Calangute beach alone.
Two triple rescues and two double rescues were conducted at Calangute beach during the busy extended weekend by Drishti Marine lifesavers Ashwin, Leslie, Nakul, Hari and Hrutuj.
Three men aged between 24 to 26 years from Bengaluru were caught in a dire situation after they lost their balance while swimming off Calangute beach due to the harsh sea conditions, before they were rescued by lifesavers using surfboards and rescue tubes. Three teenagers from Madhya Pradesh, who were caught in a rip current while swimming, were also rescued by lifesavers at Calangute beach.
The two double rescues off Calangute Beach involved a couple in their mid-20s from the national capital region (NCR) and two teenagers. In both cases, the tourists were caught in a rip current, before they were rescued by lifesavers.
Four other individuals were also rescued from drowning at Calangute beach in separate incidents. The rescued persons who were struggling in the water and were in the danger of drowning hailed from West Bengal, Bihar and two from Maharashtra.
Two Russians aged 25 and 26 years were also rescued off Arambol beach during the extended weekend, after they were caught in a rip current. Drishti Marine lifesaver, Dattaram, launched a jetski and reached the victims in distress before bringing them safely to the shore.
In another incident at Arambol beach, a 40-year-old tourist from Belgaum found himself in distress while swimming in the sea, before Drishti Marine lifesavers Navnath, Sandeep, Anna and Dattaram swiftly deployed a jetski and a surfboard to bring the individual back to shore. The rescued person experienced difficulty in breathing upon being brought to shore, but was stabilised with the help of oxygen administered by lifesavers.
Comment