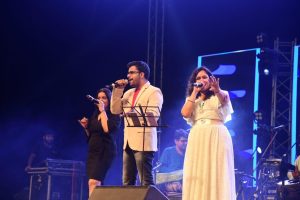 Goemkarponn Desk
SALIGAO: The Goa Heritage Festival 2023 came to an end on a high note. Hosted by the state's Department of Tourism, the three-day event showcased Goa's music, dance, cuisine, and traditions. Hosted in the village of Saligao, that is known for its heritage houses, church and history it brought together Goans and tourists alike who got a taste of Goa's richness.
Day 2 of the festival featured a semi-classical programme called Bhangrale Goem, which showcased Goan folk lifestyle, festivals, and culture in a musical format, performed by Dr. Purnanand Chari.
The highlight however, was Goa's Nightingale, Lorna, a daughter of Saligao who performed for an audience that were left mesmerized, wanting more of her songs. It was followed by a performance of the live band The Imperial, making it an entertaining evening of music and cultural performances. Goan fadista Sonia Shirsat also rendered a musical performance at the event.
It was interesting to see how Goans came together in Saligao, a little away from Panaji, to be part of a festival that celebrates Goan heritage.
"Festivals like the Goa Heritage Festival not only showcase the rich cultural heritage of Goa but also bring together people from different walks of life to celebrate and appreciate the traditions of the state. I hope that events like these will continue to promote a sense of community and pride among Goans and inspire future generations to carry forward the cultural legacy and history of the state," said Rohan Khaunte, Minister for Tourism, ITE&C, Printing & Stationery.
The second day also featured a cookery competition for Goan traditional cuisine with many participants. The competition was judged by eminent judges from the Culinary field which included Chef Alphonso Pereira, Executive Chef and Principal, Agnel Institute of Food Crafts and Culinary Sciences and Mr. Caesar, Food Critic and Connoisseur of Goan Food. The prizes were awarded to the winners by Mr. Kedar Naik, MLA, Saligao.
On the last day of the three-day festival two Goan films, 'Mog Ani Moipas' in Konkani and a Marathi film titled, 'Shyam Chi Aai'.Besides, there was a fancy dress competition for children aged 5 to 15 was organised where they had to showcase authentic Goan attire. The evening saw musical performance like Natyageet, Bhavgeet, and semi- classical songs sung in Marathi and Konkani, through an orchestra performed by Perfect Square. The musical presentations were accompanied by two bands, Shine On and Klix.
Throughout the festival, visitors had the opportunity to experience Goa's unique cultural offerings, from traditional music and dance performances to cooking competition and handicraft shops.
One of the highlights of the festival was the food and drink offerings, with local chefs and vendors serving up a mouth-watering array of traditional Goan dishes, from spicy vindaloo, and crab xec xec to sweet bebinca and shirvoyo. It was a chance for people to know more of a variety of locally-produced wines and spirits, including Goan feni, urrak.
The festival was a great success and thanks were extended to everyone involved, including the local MLA and most importantly the local audience who came to witness the amazing festival.
Comment