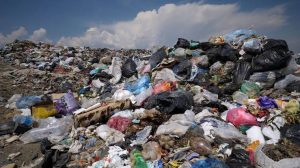 * Court asks CO to monitor the situation on a daily basis
Goemkarponn desk
PANAJI: The State government today told the High Court of Bombay at Goa that 30 metric tons of daily waste from Margao will be treated at the Saligao Waste Treatment facility temporarily while another five metric tons will be at the SGPDA waste facility.
The State also informed Court that it is considering sending around ten metric tons of waste from Margao to the Cacora treatment facility, which is currently operational on a trial basis.
Margao generates around 35 metric tons of dry waste daily, which has currently been dumped at the Sonsodo site with no treatment
The State government told the High Court of Bombay at Goa that there is no solution in place at this moment to dispose of 10,000 metric tons of waste lying at the Sonsodo dumping site.
During the hearing at the High Court, petitioner Mascarenhas filed another petition, where he had brought to the court's notice about the prevailing conditions at Sonsoddo regarding daily waste management.
Petitioner had also highlighted the repeated fire incidents at the Sonsoddo yard. Taking serious note of the petition, HC directed the Disaster Management Authority to inspect and submit the report.
The High Court directed the district administration to take stock of the prevailing situation there and upon which the District Collector, along with other officials, held an inspection at the site within a few hours after court orders.
Court has also directed the Margao Municipal Council to deploy one full-time engineer only at Sonsoddo.
Comment