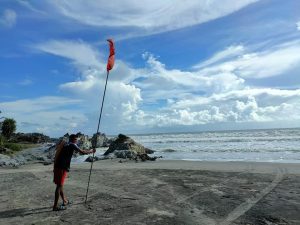 ~ 107 missing children cases so far this year. All were reunited with their families.
~ Calangute witnessed the highest number of rescue incidents this year with 73 cases.
~ The month of January witnessed 43, the highest number of rescues.
~ Over 6500 lives have been saved since Drishti Marine commenced operations in Goa in 2008.
Goemkarponn desk
PANAJI: The first six months of 2023 had Drishti Marine's lifesavers on their toes, with one reported incident every day, involving a life rescue or locating a missing child lost on Goa's beaches or water bodies.
From January to June 2023, 317 individuals were rescued, including 107 missing children traced by Drishti Marine's 466-strong lifesaving force posted on 42 beaches and two designated water bodies in the coastal state.
The rescues included water-based rescues, those assisted to safety and first aid. Several of the water-based rescues were double and triple rescues.
The month of January witnessed the highest rescues, 43, followed by 35 in February and 29 in April this year. Of the total number of incidents involving individuals, 46 were locals, 262 hailed from other Indian states, and 26 were foreigners; during this period, three individuals were also reported drowned.
A total of 114 individuals between the ages of 12 and below were involved in incidents. 111 individuals were from the age group of 19 to 25 years, while 101 were in the age group of 35 to 45 years.
Calangute Beach witnessed the highest number of incidents in the first half of 2023, with 73 incidents reported so far, followed by 52 in Baga, 21 in Morjim, while Vagator accounted for 18, Candolim accounted for 15, and Anjuna reported 13 incidents. Meanwhile, Palolem and Colva beaches reported 31 and 25 incidents, respectively. Drishti Marine's lifesavers are the first responders to any medical emergencies that may arise on the coast.
From January to June this year, there were 107 instances of missing children, which typically involve cases where minor children wander off away from their families, forcing them to reach out to the nearest lifesavers for assistance. Drishti Marine's alert team has successfully closed all reported missing child cases, reuniting the children with their parents.
The busy month of May recorded 41, the highest number of such incidents involving missing children. Calangute Beach, which regularly receives the largest number of tourist footfalls, had the most missing children incidents at 46 cases, followed by Baga with 29 and Colva with 18.
Drishti began operations in Goa in 2008. A total of 200 drowning cases occurred in 2007, the previous year, which prompted the state government to take immediate measures and put together an efficient system to tackle such tragic incidents.
Following Drishti Marine's involvement in life-safety efforts on Goan beaches and water bodies, official records show a 99 per cent reduction in deaths due to drowning in the designated public areas, significantly improving the quality and safety of the tourist experience along Goa's coastline. Drishti Marine's lifesavers have saved over 6,500 lives since 2008 due to their swift, trained intervention and rescue operations.
Comment