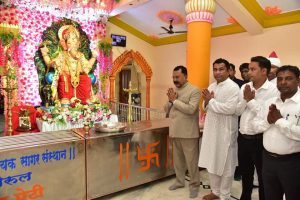 Goemkarponn desk
SALIGAO: Recollecting the Beautiful memories of village life in Kerala, Governor of Goa P.S. Sreedharan Pillai said, "whenever I visit beautiful villages in Goa, its greenery and coconut trees remind me of my village life having born and brought up in Village in Kerala".
Speaking further, he said Mahatma Gandhi once stated that Gram Swaraj is the only solution to develop the country and added that elected representatives have to work to improve society and develop villages.
"We all are public servants and have to work to serve society. Taking this into account, Raj Bhavan has taken various initiatives to serve the people. Last year the Raj Bhavan provided financial assistance to 71 dialysis patients from the Governor's discretionary fund though the target was to reach out to 71 patients. Now I can proudly say that 500 dialysis patients have benefitted from these discretionary funds besides providing assistance to old-age homes and institutions from the Discretionary Fund," he remarked.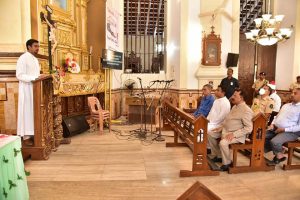 He highlighted the recently announced Financial Aid Scheme by Raj Bhavan to provide financial aid to cancer patients for treatment.
The Governor Earlier offered prayers, took the blessings of Shree Ganesh Deity at Shree Siddhivinayak Sagar Saustha Nerul, and later visited the Mae De Deus Church at Saligao and understood the History and culture of that particular Church.
Later, the Governor visited Village Panchayat Pilerne and interacted with Sarpanches, Deputy Sarpanch and Members of Village Panchayats of Guirim, Saligao, Sangolda, Reis Magos and Nerul, Listening to grievances put forth by the elected representatives on employment, infrastructure, electricity problem etc., he assured to try his best to redress their issues.
Sarpanch, Pilerne, Smt. Reshma Bandodkar; Sarpanch, Guirim, Shri. Sunny Nanodkar; Deputy Sarpanch, Saligao, Smt Utkarsha Kudnekar; Sarpanch, Sangolda, Smt Neeta Kandolkar; Sarpanch, Reis Magos, Smt. Sushmita Pednekar and Sarpanch of Nerul Shri. Sudesh Goverkar presented a brief report of their respective villages.
Governor Shri P.S Sreedharan Pillai occasionally disbursed financial assistance to 4 Dialysis Patients from Saligao.
MLA, Kedar Naik, addressing the gathering, highlighted the various touristic places in the Saligao constituency. He also congratulated the newly elected Sarpanches and Panch members and assured them full support in their endeavour to develop and work for the welfare of the villagers.
Secretary to Governor, Mihir Vardhan, IAS (Retd); Addl Collector Shri. Sanjiv Dessai; Deputy Collector, Dr Sneha Gitte IAS; Deputy Collector Gurudas Naik; Mamlatdar Bardez, Shri. Krishna Gawas and BDO Bardez Shri Shivprasad Naik accompanied the Governor during the visit.
At Aldona, the Governor was received by Aldona MLA Advocate Carlos Alvares Fereira, Z.P. Member Smt Manisha Naik and Smt Diksha Khandokar.
Governor later intersected with Sarpanch and Panch members of Aldona, Bestora, Moira, Nachinola, Paliem and Pomburpa Panchayats.
Governor Shri P.S Sreedharan Pillai disbursed financial assistance to 7 Dialysis Patients from the Aldona constituency on occasion.
Sarpanch of Aldona Panchayat Ashwin Agnelo Florence Joseph Francis De Souza , Sarpanch of Pomburpa Panchayat Smt Leopoldina Fernandes E Noronha, Sarpanch of Paliem Panchayat Smt Richa Salgaokar, Sarpanch of Bastora Panchayat Smt Angela Martin, Sarpanch of Moira Panchayat Shri Sagar Naik and Sarpanch of Nachinola Panchayat Shri. Freddy Fernandes presented a brief report of their respective villages and discussed various major issues like the Garbage Problem, Protection of the wall near the River and Roadside, construction of the New Market complex, beautification of various places to make tourist spots etc.
Interacting with the Sarpanch and Panch members, Governor of Goa P.S. Sreedharan Pillai assured the Villagers to take up their issues with the new Government and asserted that he would work hard for the happiness of the people of Goa.
Earlier, the Governor visited St. Thomas Church at Aldona.
Comment