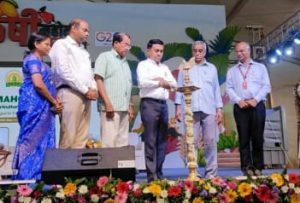 Goemkarponn Desk
PONDA: Chief Minister Pramod Sawant said that for better functioning Dairy farmers who are associated with Goa Dairy will get voting right so that they can directly elect Board of Directors (BoDs) of Goa Dairy. He asked Goa Dairy Administrator of Goa Dairy to bring new rules and than Conduct election for BoDs of Goa Dairy. There are around 5000 farmers of Goa Dairy.
He was speaking at the Krishi Mahotsav 2023, Organised at Sports Complex Curti Ponda. On occasion present were Agriculture Minister Ravi Naik, Power Minister Sudin Dhavlikar, officials of Agriculture Department.
It may be recalled that as per prevailing law BoDs of Goa Dairy is elected by Chairmans of Milk supplying Societies attached to Goa Dairy and there is no scope for milk farmers to elect BoDs and Chairman of Goa Dairy.
This need to be curb for safeguarding interest of Goa Dairy. After new law Farmers can elect Directors who can protect interest of Goa Dairy.
He also said that the incentives to farmers is pending since past nine month and henceforth government is trying to pay it immediately in fifteen days time directly to their Bank Account after it is declared for them.
He said Goa Dairy belongs to farmers and will remain in their hands and they should run it. He urged farmers to take benefits and subsidies of various schemes for them to enchance production and to make Goa self reliant.
Comment