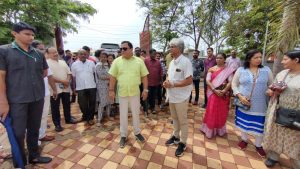 Goemkarponn Desk
DABOLIM: Panchayats Minister Mauvin Godinho on Monday morning said that around 6500 different trees would be planted in the Joggers Park at Dabolim
Godinho was speaking to reporters after launching a plantation drive at Joggers park in the presence of Chicalim Sarpanch Kamla Prasad Yadav and others.
"We have improved the Joggers park further and We have launched a plantation Drive here at Joggers park . We'll be planting over 6500 different trees in this park to make it green . We will also be adding many facilities to the Joggers park for the benefit of the people which include a water lagoon, an open Gym , E library for senior citizens, creche service for children , Yoga hall and meditation centre with trained people and offering classes beside Mahila Bhavan for women of self help groups" said Godinho
He further said that he will also have indoor and outdoor gym coupled with double walking track as per international standards and we will also have a food court and entertainment centre.
We will plant 1500 trees in the first phase and we will plant a total of 6500 trees here. We are also having a stage in the Mahila Bhavan to have small programs at the park and all these infrastructure facilities will be added to Chicalim Panchayat " said Godinho
"It will be fully functional by August and we will also have a turbine at this plant to generate power which will be used by joggers park and surrounding areas.
We will also have a Fecal waste plant that will generate water from our STP plant and we can use that water for gardening these plants instead of depending on drinking water. We have started the work on the roads and we will also having a good road leading to the garbage plant. We will also spend a lot of money on landscaping the garbage treatment plant and it will not look like a garbage treatment plant. " Said Godinho
"We are also having a new project coming up at the Chicalim Junction circle where there used to be Flinstones Hotel. Our architect who has already designed this project has designed something very awesome there.
We will soon lay a foundation stone of this new project at the Chicalim Junction. People from all over Mormugao and Goa will arrive here to enjoy the new Joggers park " said Godinho
Chicalim Sarpanch Kamla Prasad Yadav said that it was his main aim to make the panchayat greener after he took over as the Sarpanch
Comment