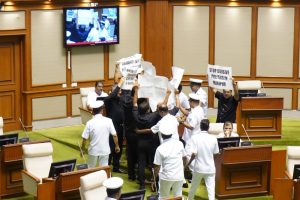 Demanding discussion on Manipur issue, Opposition MLAs created ruckus in the House and wanted Jit Arolkar to stop his Zero hour mention
Opposition charges the BJP of sabotaging intergroup cohesion
Goemkarponn desk
PORVORIM: All the seven members of Goa legislative assembly were suspended from the house for two days with effect from Monday.
In a shocking change of events, opposition members rushed to the House well on Monday and demanded that the Manipur matter be discussed, causing chaos in the Goa Legislative Assembly.
The Speaker's denial of a private member resolution discussing the issue led to the outrage.
The Goa Legislative Assembly marshals intervened and removed the protesting members from the House after opposition MLAs prevented a colleague legislator from raising a concern during the Zero Hour.
Pramod Sawant, the chief minister of Goa, and other members of the ruling party, however, fiercely denounced the opposition's conduct and demanded that those responsible for the disruption of the proceedings be held accountable.
Jit Arolkar said that he was pushed, paper were thrown away and marshal's cap was put on his head when he was making a Zero Hour mention.
"We cannot tolerate this behaviour of the Opposition MLA," Jit Arolkar said demanding justice.
Responding to the demand, the Speaker said that entire country is sensitive about the issue. "The union Home ministry is dealing with the issue. The issue is discussed in the Parliament. We cannot allow discussion on the issue on the floor of this House," the Speaker ruled.
He then declared that all protesting assembly members will be barred from participating today and tomorrow.
During this time, the suspended MLAs will not be permitted to attend assembly sessions in the hopes that this punitive measure would help to restore order and encourage future productive dialogue on important subjects.
The Opposition MLAs suspended from the House are Leader of Opposition Yuri Alemao, MLAs Viresh Borkar, Venzy Viegas, Cruz Silva, Vijai Sardesai, Adv Carlos Ferreira and Altone D'Costa.
Speaking at a press conference following their suspension, the opposition declared that Manipur is the issue today and Goa will be the issue tomorrow.
"BJP aims to sabotage intergroup cohesion. The government is unwilling to address the NEP. Children's future is at risk since CM isn't taking this seriously and is too preoccupied with events. LoP Alemao, Yuri
Vijai Sardesai, Goa Forward MLA from Fatorda, claimed that there was a government plot to silence the opposition out of fear that we would reveal them when we spoke up.
"Why is there no discussion about Manipur?" confronted Sardesai.
Prior to this, during zero hour, the leader of the opposition, Yuri Alemao, pressed the Speaker to explain why their motion on the Manipur crisis was not discussed.
Comment