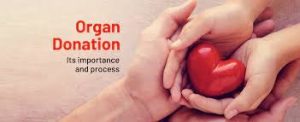 Goemkarponn desk
PANAJI: Health Minister Viswajit Rane said that a total 950 people have pledged to be an organ donor in the state of Goa.
"Total 950 people have pledged to be an organ donor in the state of Goa. There are 45 patients enlisted on SOTTO–Goa waiting list for deceased donor kidney transplant of which 40 are Active and 5 are inactive," said Rane.
He further said that one patient who is a native of Karnataka has also been enlisted in the SOTTO Goa waiting list as the domicile criteria has been abolished by the NOTP guidelines for registration which was especially highlighted in the Prime Minister Narendra Modi's Mann Ki Baat.
Rane said that t otal 29 Kidney transplants have been done in the State of Goa in last 5 years (since 2018) of which 23 are from Living Donor and 6 from Deceased Donor.
"All the 06 Deceased Donor Transplant have been performed in Goa Medical College & Hospital," he said.
The Minister also said that the cornea transplant has been started in Goa from April 2023. Total 09 Cornea has been transplanted as of date, of which 7 are performed at ASG Hospital and 2 at Healthway Hospital.
Meanwhile, Rane said that Government has no proposal to start retrieval and transplant of liver, kidney, heart, intestine, pancreas, lung, cornea and other organs.
SOTTO was established in Goa, a registry allowing patients in need of transplants to register themselves on waiting lists. The registry had been launched last December.
State Organ and Tissue Transplant Organisation (SOTTO) Goa in May had allocated two donated kidneys as per the waiting list maintained for deceased donor kidney transplant in the GMC, while, the heart was allocated to a 51-year-old woman at HN Reliance Hospital, Mumbai and liver to a 47-year-old man at CIMS hospital, Ahmedabad by ROTTO-SOTTO West Mumbai.
Comment