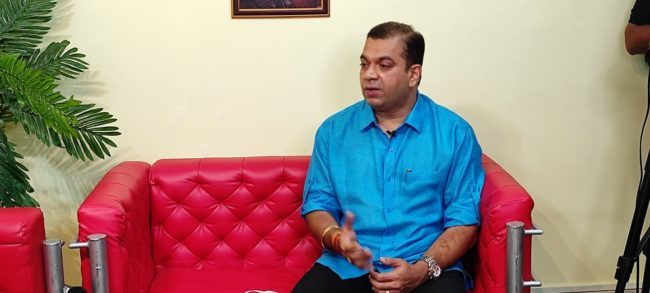 Several leaders have switched parties in this election period, but the biggest shock to Goa was Rohan Khaunte joining the BJP, the party he has often criticised inside and outside the Assembly. Goemkarponn, Editor SURAJ NANDREKAR, speaks to teh former MLA and Minister to know his side of the story on what led him to take such a decision.
Excerpts…
Goemkarponn: Rohanbab, Your decision of joining BJP has shocked the entire Goa. How and why such a decision was taken?
Rohan Khaunte (RK): First of all, I have been elected twice as an independent candidate. Politically I had to decide how to take things ahead. For the past two and a half years of staying outside the government, I have been taking up issues in and outside the Assembly and fighting with the Chief Minister and the government on various issues. For the past five months, I felt that the opposition should unite, but unfortunately, the personal interest and individualistic thought became stronger. Many write that we have jumped to some political parties, but the fact is, I have discussed with my supporters and given a thought about it and then went into BJP. Narendra Modiji is at the centre, and there is no formidable opposition to him.
Goemkarponn: Is that why you joined BJP?
RK: The Bengali party said "Khel Jatlo". What does that mean? Are Goans considered as toys?. Considering that so many others are entering and leaving political parties, I felt that I needed to make a strong decision. I have been taking up various issues, and I feel that BJP will form the government. Last two and a half years, various projects related to water supply in Porvorim got stalled, which had taken up when I was a minister. When we started work in Porvorim, we had come up with a long term plan which consists of factors such as electricity, water, sewerage, garbage etc. You cannot always be the kingmaker staying independent. I felt the decision which was taken by discussion will prove right in coming days
Goemkarponn: This is the first time you are going before people with a BJP symbol; how have people responded?
RK: People have faith in Rohan Khaunte. Although certain sections of the people might feel insecure, why did Rohan join the BJP? What will be our faith now that Rohan has joined BJP? But some people are not bothered about any party, and they are only going to vote for Rohan as an individual. Overall, there has been a tremendous response in Porvorim. I have performed and been accessible to my people throughout my ten years tenure, and we are going before people with the report card what we have done in ten years. I worked closely with the Late Manohar Parrikar when I was a minister; I know his ideas for the state. The legacy of Manohar Parrikar in terms of knowledge, vision etc., needs to be carried forward by people of like-minded coming into the government.
Goemkarponn: You joined BJP at a time when the sentiments were against the party from the section of minorities. How has been their response to the move?
RK: I never discriminated against minorities and the majority. I have always been secular. I have grown up with all, but I understood the caste differences when I entered politics. Wherever Rohan Khaunte has gone, his ideology and tone have remained unchanged. We have so many minority MLAs in BJP. Social media cannot create impressions, and we have to keep our secularity and stay united. We have to give security to our people. Joining a party does not change your ideology, but it is just a forum to legislate and deliver. Time will prove that the decision I have taken today will benefit the Porvorim locals and Goa.
Goemkarponn: You have been in the headlines for taking the CM head-on when you were in opposition; You were the one who gave him the name Pappu CM. How things have changed now, and how will you manage to convince people that BJP is good for Goa?
RK: In the past two and half years, lots of things have gone wrong with this BJP government. They need a lot of course correction. When I was in opposition, it was my job to tell CM where he was going wrong, which I did. People should understand the role of the MLA, Minister. Most of the time, people feel that certain enmity should continue outside the house. When we take on someone, we take it on a particular issue. The issues which have come up like environment, jobs etc. are important for youths. We have been taking up issues, but there is nothing personal about it. I have done my job to highlight issues.
Goemkarponn: What happened in 2019 which led to the removal of you and Vijai Sardesai from Cabinet?
RK: It is a time gone by, and we need to see the journey ahead. During my tenure as a minister, the work that was not happening for 25 years was taken up by me. If these things were done in two and a half years, one could imagine the work we could do in five years. If we need to give the state good governance, then every bureaucrat govt employee should perform. Instead of looking behind let us look ahead and work together.
Goemkarponn: You were the main person trying to bring together Opposition for Mahagatbandhan against the BJP. Where do you feel your efforts failed?
RK: For the past five years, the Congress party had a very good chance to become a pillar and pull everyone together. TMC coming to Goa and proving one step ahead, and Congress cannot run the show as it is. In the past few days in Congress, I saw that there is no trust among themselves and all have their individualistic mind in Congress party and when all people says that how can one join such a party. Time will prove whatever I am saying is true. People will come to know how Congress has worked suicidal, which has damaged the party itself.
Goemkarponn: Do you think BJP will get a majority and will form the government in 2022?
RK: BJP will form the government and be close to a majority. I will be very happy if in 2022 it happens. We have a lot of work to do and reach out to the people. In North and South, Goa BJP will get a majority of seats, giving them a comfortable majority in Goa.
Goemkarponn: With a strong leader from taluka Michael Lobo joining Congress, do you think it will affect the BJP in the constituencies of Bardez?
RK: BJP will get a majority in Bardez; there is no doubt about it. People are not so ignorant of why a person goes out of the party and talks against the party. If that person had so much anger against the party, then that person should have exited the party six months ago. A person becomes minister, gets his work done in the constituency, and when the Code of Conduct comes into force, that person takes a decision; this shows how individualist and selfish the person's approach towards politics is, and this is being observed by the people of Bardez and Goa. Politics is not something about the money factor which you play. A person who has money could spend it, but it doesn't mean that people are with him; it also depends on the issues solved in the constituency and performance. In Bardez, out of seven seat minimum of five to six seats BJP will get. As far as Tiswadi is concerned again, BJP will win.
Goemkarponn: In 2019, BJP started with 13 MLAs, and finally, they reached up to 27 by engineering defections. Considering this, the BJP's core cadre are hurt, which will be one factor in the 2022 election. Have you noticed such a thing in your constituency?
RK: Party's core volunteers stay loyal to the party and abide by the party's decision. I have never differentiated with my people, and whoever has come to me from my constituency, I have helped people because I am everyone's MLA. Some ex MLA says the BJP core volunteers are hurt, but this same MLA brought 12 Congress MLAs in the past. Now that the same politician has joined Congress workers. Using people and making politics out of it is not my cup of tea. Whenever Goa Goemkarponn comes up, we need to understand that we have different states of one nation.
Goemkarponn: You were the Revenue minister in the Parrikar government. What is your view as an MLA in the recent recruitment scam?
RK: As an ordinary citizen, I feel "a scam is a scam. If the scam has taken place, the party's job is to take action. Parents of the students who have slogged themselves to educate their children and invested in them, their meritorious children are getting fewer marks, and the other students are getting more marks is unfair. I feel in the recruitment issue, there has been a biased approach. A candidate from one constituency is getting 95 marks, and then what others have done? One department has the people of one particular constituency. To avoid such things, we had made a staff selection commission so that after the exam, only meritorious candidates would get jobs.
But it was removed in the last two and a half years, now the Chief Minister is at the receiving end because he doesn't know why it is going wrong, and if it is going wrong, he has to accept it. One cannot do nepotism and be unfair to the youth of Goa, and there has to be correction done, and I stand by it. As per my views, these posts need to be scrapped immediately, giving the youth of Goa hope that BJP is with them.
Comment