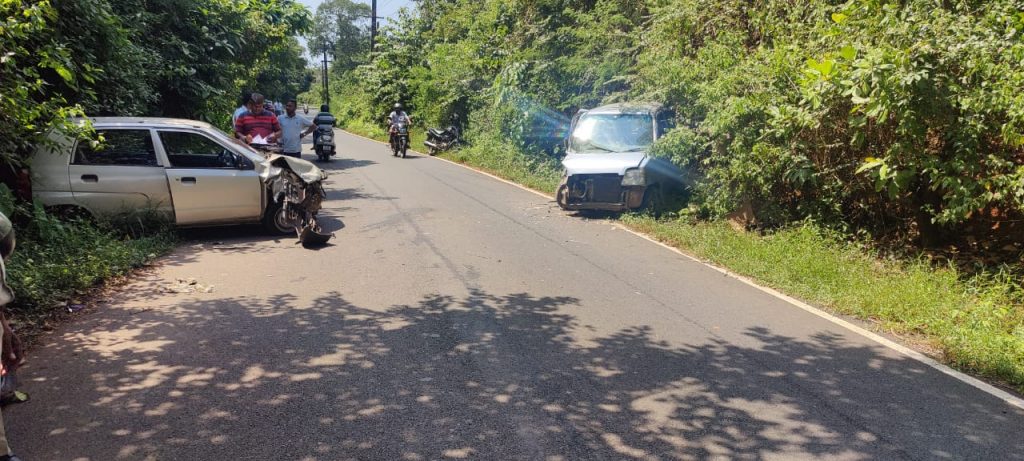 Goemkrponn desk
CORTALIM: An accident was reported between two cars at Shindole on Thursday afternoon, leaving a few occupants of the cars injured
Sources said that one car was speeding and overtaking along the marrow road and dashed against an oncoming car moving from the Highway toward Cortalim.
While the locals immediately called the 108 services and shifted the injured persons to the Hospital, residents have now demanded remedial steps to be taken along the road, which has now become an accident-prone zone
A resident, Eddie Fernandes said that there had been another accident a few days ago where a woman and her child were dashed and dragged away by a speeding car
"This is a very narrow road, and there are many sharp turns along the road that lead to these accidents. We have seen many people drive in a rash and speeding way along the road and causing accidents. This road is connected to the highway, and many times, the rent a car people who are not aware of the track cause accidents here. The authorities must immediately take remedial steps and have a joint inspection to lay speed limits along the road or have speed breakers in place. Many accidents are reported in the area due to rash driving, and innocent people get caught unaware in these accidents. The authorities must act before it is too late," said Fernandes.
Comment