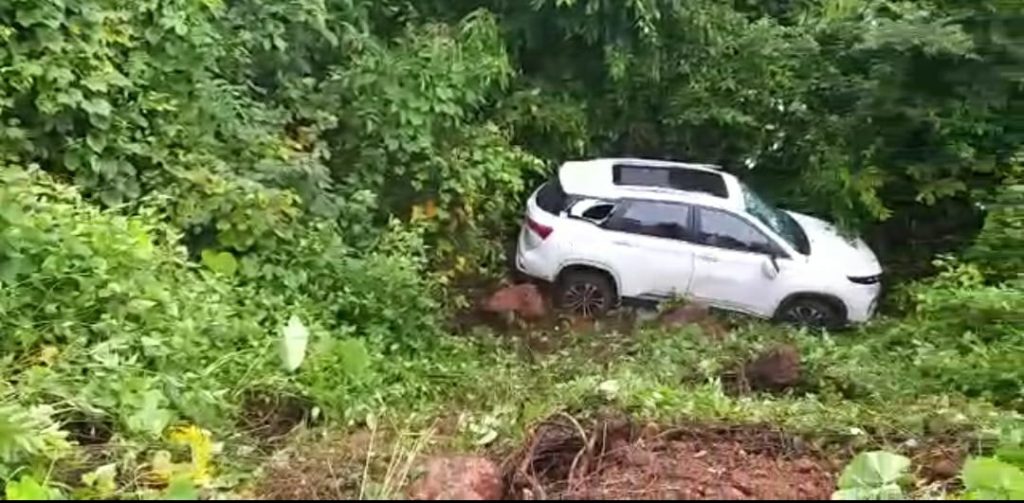 CANACONA: The accidents continue to hamper trafic flow in Canacona sections NH-66, as Car plumets down the ravines at Polem while a Container Truck crashed into Crash-barriers at Karmalghat Friday morning.
According to sources, a 2 months old MG Hector car with 5 occupants (From Andhra Pradesh) who has come as tourist to Goa and were staying in North Goa were traveling to go to Murudeshwar in Karnataka. At about 3.30 am just minutes before reaching the Polem checkpost, the Cars front left tyre bursted and the Car went off the road and fell down the ravines at Polem.
Luckily, none of the five occupants of the Car suffered serious injuries, but escaped with some minor bruises in the mishap. The visitors however blamed the narrow road inspite of being a Highway. After seeing Goa, we were going to Murudeshwar, but about 3.30 leftside front tyre got burst and we could not handle the Car. Infact the car got rotated and it fell into the Pit. Ajay a car occupants informed.
' If the road was broad enough we may have been able to control our vehicle on the road itself, but the car went on and uncontrollably fell dow', Ramy another car occupant said.
In another mishap a Vehicles Transporting Container bearing registration number NL-01 Q1154 carrying 4 Innova and One Fortuner Cars crashed into the Crash-barriers at Karmalghat. Leftside tyres got stuck into the roadside mid, when the driver took the Container slightly to its left to provide sufficient space of road to another oncoming heavy vehicle and one-side of the Container got crashed into Crash-barriers.
The Container is placed so dangerously that it not only blocks the road, but virtually forces the traffic to overtake it blindly, fearing collision with an oncoming vehicle.
'Road is so much narrow and the little roadside space is very treacherous in Goa's Highway, that I tried to avoid an oncoming vehicle i moved it slightly to the left, and it got stuck in the mud and hit the crash-barriers ', complained the Driver, who identified himself as Suryawan informed he had brought the 4 Innova and 1 Fortuner Cars from Bangalore to Goa.
Incidentally, since the mishap took place, no police or Traffic officialreached the spot as the stranded traffic began to move along accross both the sides, seriously endangering a collision of vehicles.
A scribe who reached the spot half an hour after the mishap was seen himself trying to regulate the traffic and controlled smooth flow of traffic for over an hour, but policemen failed to reach the spot.
Comment