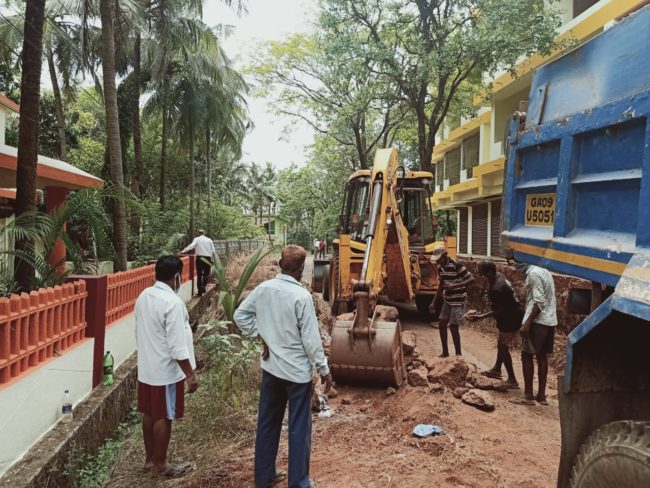 Christanand Pednekar/ Goemkarponn Desk
XELDEM: The Administrative Tribunal, Panaji, has directed the local authorities to demolish encroachment on public land without any further delay at Sirvoi, Quepem.
The Administrative tribunal thus dismissed the petition filed by Mrs Clarina Cardozo, Menino Fernandes and James Fernandes to order a stay on demolitions in Survey no 18/12 18/22 18/23 of village Sirvoi, Quepem taluka.
The Tribunal directed to immediately take up the demolition of the encroached walls and structure and clear the public land of all the encroachments without further delay with police protection if needed.
This issue started long back nearly 5 years ago concerning the building of Shyam Satardekar.
The petitioners said there was no setback for road and drainage was left and hence government acquired their side of land.
They said the marking of boundaries of properties was unfair.
James Fernandes said, "we also brought objection because it's affects our property."
Fernandes also said that this is illegal road which is between two properties because they still don't have proper documentation of acquisition of road which was passed by panchayat and TCP.
Panch member of Xeldem panchayat Johanna Fernandes told that it is unlawful act by highly educated people by blocking public road.
"Few years back, James Fernandes, illegally constructed a 3-meter laterite stone wall and fixed a gate across an PWD acquired tarred road. He also dumped rubble for about 50 mts long stretch. This road has existed for the last over 30 yrs at St. Alex ward, Tilamol," she said..
She further said that Fernandes has started misguiding his neighbours while claiming that the road property was purchased by his father.
"Time and again he was twisting facts and misrepresenting to various govt offices. He started taking advantage of various loopholes in the govt system. For a long time PWD failed to act as required. Collector South, Dy. Collector Quepem and Mamlatdar, Quepem also failed in their duty time and again," she said.
"Last week the court dismissed all the false claims of James Fernandes, His desire to rob the government of its land has fallen flat. Thereafter, Dy. Collector directed PWD to demolish the wall and clear the obstructions on the road. Today the demolition order was executed, V.P. Xeldem also failed in their duty," she added.
Comment