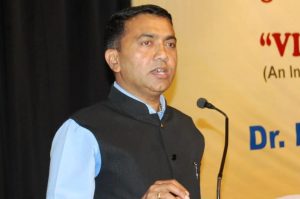 Goemkarponn desk
PANAJI: Chief Minister Pramod Sawant said that the state has a legal case and that soon, people will see the results of the Mhadei matter.
"The state has a strong case legally, and soon people will see the results in the Mhadei matter. The state will work towards protecting Mhadei"" said CM Sawant on the sidelines of a programme.
He further said that they have asked for an early hearing by the Supreme Court in the Mhadei matter.
""We will continue to fight for every drop of water that rightfully belongs to Goa. The DPR of Karnataka has also not received the necessary Environment clearances"" he added.
Sawant also assured the people of Goa that my Government would protect Goa's interests.
The Chief Minister also said that it was only because of the peace in Kashmir that Rahul Gandhi could unfurl the Tricolor at the Lal Chowk in Srinagar and that in the Congress's tenure, this was not possible.
"It is a testimony to the success of Union Govt. led by PM Narendra Modi and the steps like abrogation of Art. 370, 35A, which has brought peace and development to the region"" he added.
Sawant said that India will continue to be united and strong under PM Modi and reign as a world power.
In a major setback to Goa, Union Home Minister Amit Shah stated that the BJP government at the Centre has resolved the controversial Kalsa-Bhandura water diversion project and has cleared the project to benefit the farmers in the North Karnataka region.
""The Chief Minister of Karnataka has done a commendable job of diverting Mhadei water to Karnataka by taking Goa govt into confidence for quenching the thirst of farmers in Karnataka"" he had said.
Comment