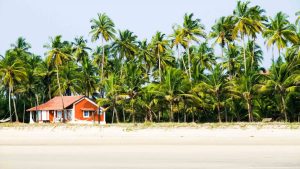 Goemkapronn desk
Panaji: Even as Chief Minister Pramod Sawant and Tourism Minister Rohan Khaunte last week rooted for bringing a sustainable edge to the burgeoning tourism industry in Goa, diverse stakeholders in the state's travel and tourism sector have articulated the need to walk the same path; the sooner the better according to some.
"All tourism today has to be sustainable. If you look at Bali today, along the beach, they have conventional tourism. As you go into the interiors, tourism is more sustainable. It is a small region. There is no option. In today's world, every segment of the tourism industry has to be sustainable," according to Travel and Tourism Association of Goa's vice president for North Goa, Jack Sukhija.
On World Tourism Day (September 27) while Chief Minister Sawant had called for making Goa a zero carbon emission state before 2050, Khaunte had said that the tourism ministry was working on sustainability from a long-term perspective.
While the government plans to tinker with its policies to meet sustainability goals, even individual restaurant owners, according to Gaurav Bharadwaj, founder of Beno, an all-day cafe bar in Benaulim, can do their bit towards making their own establishments sustainable.
"Reuse as much as you can. At Beno, all our lamps, the entire cabana section, the whole bar, the design is created from repurposed or upcycled wood. Instead of using new wood, we went to some of these scrapyards, picked up boards, recycled them and reused them. From a food-based perspective, portioning plays a huge role, always ensure that you're not giving out large portions which a person ends up wasting," Bharadwaj said.
Awareness about sustainability as well as training young hospitality students about the key significance of the principle, is imperative according to chef Patrick Albert, head chef, of Verna-based Kamaxi College of Culinary Arts.
"We need to teach students about how to use all parts of the ingredients and avoid wastage. We always leverage the use of local products when teaching our students. This approach works well for various types of culinary endeavours, including Goan cuisine," he said.
Even representatives of leading hospitality brands in the world like The St. Regis Goa Resort in South Goa, root for sustainability as a means of holistically furthering the tourism industry.
According to the Resort's Director of Sales and Marketing Varun Bharadwaja, incentivisation could go a long way in promotion as well as willing adoption of sustainable methods in the tourism sector.
"Incentivising sustainable practices cultivates a sense of environmental responsibility. When there's a tax rebate programme in place, it motivates organisations to adopt sustainable measures, such as installing solar panels and opting for recyclable materials instead of plastic. While large organisations already have sustainability mandates, for standalone properties, 4-star, 5-star, for entry-level establishments like guest houses, tax incentives can lead to substantial savings and encourage them to embrace sustainability, resulting in mutual benefits," he said.
Even the National Restaurants Association of India, which represents the interests of more than five lakh restaurants across India, believes that one can be sustainable even when it comes to packaging food correctly whenever possible."It is not possible everywhere. For example, curries do not hold well in paper containers, but wherever possible, try and use sustainable packaging, reduce the amount of cling films that restaurants use, etc.," says NRAI Goa chapter head, Prahlad Sukhtankar.
Comment