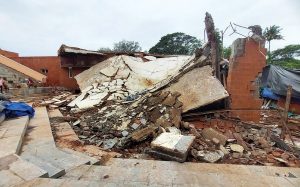 Goemkarponn desk
PANAJI: After facing criticism over carrying out renovation work of Kala Academy costing Rs 49 crore without floating tender, the BJP government has now decided to invite tenders for work on the collapsed open auditorium of this iconic building.
Kala Academy was reopened on Friday by Chief Minister Pramod Sawant.
Speaking on the occasion, Public Works Department Minister Nilesh Cabral said that the work of the open auditorium will be carried out by inviting tenders.
On July 17, the roof of the open auditorium of Kala Academy had collapsed.
"There is the issue of an open auditorium. We will float tender and try to complete the work at earliest," Cabral said.
Speaking about the strengthening of work done in the main auditorium of Kala Academy, Minister Cabral said that now the water will not come inside the auditorium during the rainy season.
"We have seen in the past how the first four to five rows of the auditorium were getting wet due to water. Now there will be no influx of water inside the auditorium. The contractor who has done this work will maintain it for next five years without charging fees. It is part of his work under 'Defect liability period'," Cabral said.
Designed by legendary architect Charles Correa and started in 1970, Kala Academy has emerged as the premier art and culture centre of the coastal state. Main events of IFFI were taking place in Kala Academy before its renovation work.
The Goa government had come under attack for allegedly carrying out renovation work of Kala Academy costing Rs 49 crore without floatingtender, which was against the CPWD manual. The work has been going on for the last three years.
However, defending the state government's move to nominate a contractor for the renovation work of Kala Academy without floating a tender, Art and Culture Minister Govind Gaude had said that even Shah Jahan did not invite quotations before building the Taj Mahal.
"Taj Mahal was built between 1632 and 1653. You know why it is still so beautiful and everlasting? Because Shah Jahan never invited quotations to build it. That is why the Taj Mahal is intact even after 400 years," Gaude had said.
According to opposition parties, Kala Academy was built 50 years ago at a cost of Rs 4 crore, and now more than Rs 49 crore were spent to repair it.
Comment