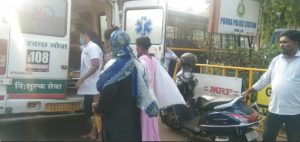 Goemkarponn desk
PONDA: The family of one Ladli Laxmi beneficiary was shocked yesterday evening after one agent lady assaulted their daughter for not paying Rs 50,000 as commission from Rs 1 lakh which was sanctioned by the government.
The victim resides in Dharbandora with her husband and arrived at her mother's house at Bablyakhali Nagzar Curti Yesterday.
A few years ago victim got married, and after that, the accused agent lady residing next to her house had promised to file her application for the Ladli scheme on condition that the accused would do all formalities for filing the application till the money is sanctioned.
The accused kept all her documents in her possession, and when money was sanctioned, she called the victim to withdraw money.
The victim paid the accused agent Rs 20,000.
However, as some days passed, the accused agent lady got furious for not receiving the balance amount of commission and assaulted her by banging her head on the wall, following which the family rushed to Police and filed a complaint.
The Police shifted the 28-year-old victim to the Hospital for sustaining head injuries.
The victim's mother said that the accused lady also grabbed Rs 30,000 from her other daughter.
Comment