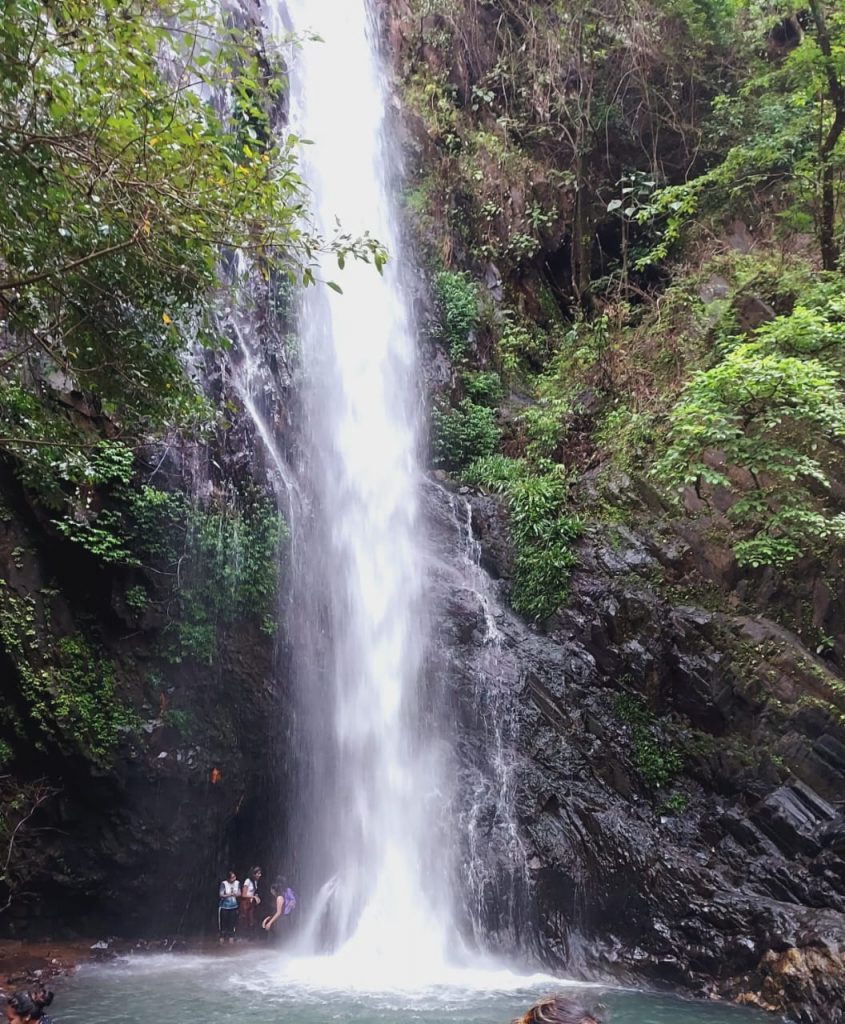 Goemkarponn desk
CANACONA – The waterfalls are mostly described as picturesque, but a new discovery of Bal-fond waterfall beyond the famed Kuskem waterfall situated in Khotigao is also mesmerising and a hidden jewel deep down the Western ghats in Canacona Taluka.
A group of youths from Agonda had a first-hand trekking experience after parish Youths numbering more than 50 took to trekking early Sunday morning.
"It took almost an hour to walk through the thick vegetation and cross as many as 7 streams before we could set our eyes on the magnificent waterfall. The two guides who accompanied us from the road junction led us to this new discovery for us, 'Balfond waterfall', mentioned one of the youth who returned back after an exhausting but happy tracking experience," they said.
When the group of parish youth of Agonda, consisting of boys and girls, were led by assistant parish priest Fr. Darrell Fernandes and two Sisters (Nuns) of Sisters of Mary Immaculate, Agonda, alighted from the Bus, the guides at the makeshift reception for Kuskem waterfall informed that the well-known waterfall (Kuskem waterfall) is no more active and have almost gone dry and suggested the group leaders lead them to yet another waterfall which is however at a distance of over one hour walk time (The distance through vegetation to Kuskem is a walk between 15-20 minutes).

Instead of their standard charges of 100/- a person, they were charged only 50%, and two guides accompanied the young trekkers. Though an hour is sufficient to cover the distance, the group took pictures and, enjoying the 7 different streams that one needs to cross on the way, took nearly two hours before setting their eyes on a beautiful waterfall, which the guides identified as Bal-fond Waterfall.
The location is in Kuskem itself, but it's a different Waterfall, where water gushes down from an approximate 20 metres height. (Kuskem waterfall flows from a height of above 30 meters).
Incidentally, as the rains have subsided lately, the Kuskem waterfall, a purely Seasonal waterfall, loses its charm as the spring in its catchment area also subsides by the end of the monsoon.
According to one of the Guides, Bal-fond Waterfall is virtually a threat to the eyes as it maintains its flow well beyond the monsoon rains.
The Kuskem waterfall, ever since it turned out to be a tourist attraction, has been heavily visited by various groups, particularly youngsters from different parts of the State and beyond.
A counter opened at the beginning from where it's all on feet, a trek of about 15-20 minutes.
The source of water is not a river but the seasonal springs that come alive hidden amidst the hilly mountains covered with thick vegetation only during monsoon.
Comment