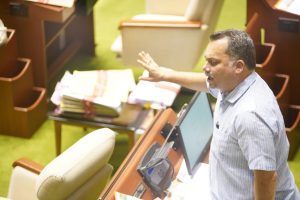 Goemkarponn desk
PANAJI: PWD Minister Nilesh Cbaral on Thursday said that in a year's time, the whole policing of the roads in Goa will be carried out by traffic signals with Artificial Intelligence (AI) systems, which will monitor traffic offences and issue challans to the violators.
Cabral also stated that all signals will be brought under the PWD in response to discussion of the PWD's demands in the state legislative assembly.
"There will be cameras, and all of the traffic signals will be connected to the cameras. The cameras with artificial intelligence will also monitor over speeding, he claimed.
Cabral added that only rumbler strips would be used on national highways in accordance with the Supreme Court's order. Additionally, he issued a warning that if speed bumps around the state do not meet the required criteria, action will be taken against junior engineers, assistant engineers, and executive engineers.
Within two months, he promised, all encroachments on National Highway 66 will be eliminated. There are 432 fewer engineers needed in the department. Despite this, the agency is working hard to find solutions to all of the problems, he said.
He said that the mobile app for reporting potholes on the road is working well and that in three months, a similar app will be released for reporting water leaks.
The minister insisted that the department produces 600 MLD of water each day, but claimed that 200 MLD of the water is squandered. He stated that the PWD would shortly release a tender for water management in order to cut non-revenue water by 39%.
In order to create an additional 100 MLD of water, he stated, "We are going to build water treatment plants at Ganje, Siolim, Chandel, Dharbandora, Tuem, and other parts. Another water treatment plant of 100 MLD will come up at Salaulim."
Cabral reaffirmed that the agency will guarantee that every household in the state has access to water for at least 3 to 4 hours per day within a year. Additionally, he stated that the department would have backup generators at the water treatment facilities to ensure that there would be no interruption in the water supply in the event of a power outage.
"We also have a project to build a project to reuse grey water, and the first such plant will come up at Patto in Panaji costing '6 crore under the Smart City project," he said.
Cabral stated that the new Zuari bridge's second phase of construction would be finished by November 2024.
According to Cabral, black patches and accident-prone areas on roadways have been identified, and work to fix them has already started. He added that the government planned to release a policy requiring the repair of crash barriers on national highways after damage from incidents within 72 hours.
Comment