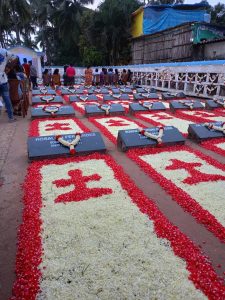 Goemkarponn desk
CANACONA: Hundreds attends Masses celebrated in Church Cemeteries to observe the 'All Souls Day' on Thursday.
Celebrating early morning mass in their Church Cemetery, Priests in their homily had called the faithful's to observe 'Indulgence' until 8th November and exclusively Pray for the Dead that God grants them Salvation for Eternal Life.
While Christians all over the world celebrates the Feast Day of All Saints on 1st November, the 2nd November is observed for the Prayers and Indulgence to seek God's Mercy and Salvation for All the Souls in purgatory.
'The dead cannot pray nor seek mercy of God for themselves, but we, the living can pray to God and seek His mercy for the Souls of the dead. Lets all Pray for all the Souls in Purgotory, and ask for God's Mercy for their Salvation'. St. Anne's Agonda Chruch Priest Fr. Patrick Luis asked faithful's invoking a special prayer, during the mass concelebrated by Asstt. Parish Priest Fr. Baltazar Fernandes in the Cemetery early Thursday morning.
Incidentally, earlier on Wednesday evening, grieving families and the Parishioners of the concerned Parishes in Canacona turned up in large numbers to clean the Cemeteries and decorated/dressed-up the graves of the dead with flowers in the respective Church areas as a preparation for the celebration of the Mass on 'All Souls Day' on Thursday.
The St Thereza of Jesus Church Cemetery at Chaudi has been renovated with a shed and a coat of paint, by the parishioners themselves working for the past fortnight, while the graves were individually decorated by the respective family members even as a flower-seller was brought at the doorstep of the cemetery to enable families to purchase flowers needed to decorate the graves of their department near and dear ones.
It was a unique and one of a kind of cemetery/graves decorations at Agonda, as Parishioners from all the 10 (Small Christian Communities (SCCs) gathered in large numbers on Wednesday to decorate all graves in the cemetery and flowers were laid in a uniform manner for the second year in succession. The 'Niche's' on the cemetery Walls were also uniformly garlanded with flowers.
Agonda Parish Priest Fr Patrick Luis had earlier appealed to parishioners not to differentiate while decorating the graves of the departed, but to use a common pattern for decoration, most preferably using only eco-friendly and and bio-degradable and only non-plastic items at all graves in the cemetery.
The masses were conducted with packed- full cemeteries, and faithful's spread outside the cemeteries all standing throughout the mass-celebrations.
Incidentally, with some churches celebrating one or two more masses in Church –halls thereafter, faithful's and grieving families members of the Graves still exists, came back in the Cemeteries and held exclusive prayers with some reciting the entire Rosary infront of the Graves of the departed near and dear ones.
Comment