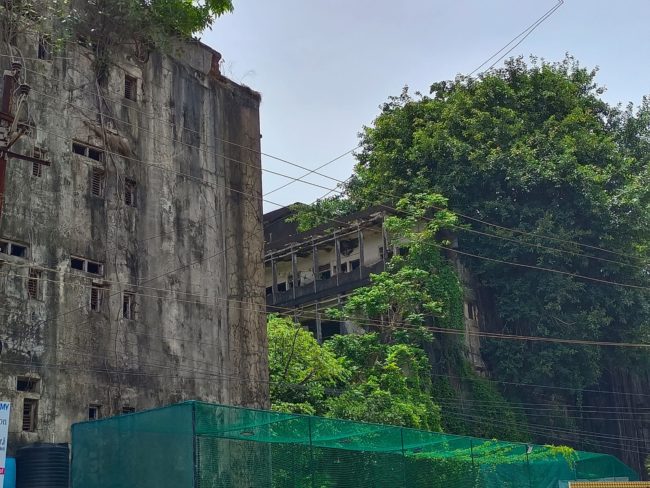 Dhiraj Harmalkar/Goemkarponn Desk
VASCO: Mormugao municipal council still awaits for the structure stability report from the Goa Engineering College for almost a year.
The MMC engineer claimed to have all fees to the GEC to prepare the structure stability report a year ago but the fate of these old dilapidated structures from Mormugao municipal area remains in oblivion.
As per the information given by the Municipal engineer of Mormugao Municipal Council, from Ward 1 to Ward 6 there are 6 such dangerous structures, from Ward 7 to Ward 12 there are 7 such dilapidated structures and from ward 13 to ward 25 there are around 32 age old structures present in the municipal jurisdiction. All of them have been served notices to vacate the premises.
When questioned about what will the MMC do to safeguard the commuters and people who pass through these buildings, engineer said three buildings of MMC are going to be barricaded shortly which have been identified as dangerous. One is Janata building of MMC and other two are Gosalia and Premavati.
MMC will resort to barricading only and not demolition since two buildings matters are sub judice. We will take care that people do not enter these old dilapidated buildings" he added.
Later when asked about the structure stability report which the Goa Engineering College was supposed to be making, municipal engineer said that MMC has paid fees for making structural stability report to GEC last year. But till date we haven't received the report. Hearings before Chief Officer of some private old buildings are still ongoing, he said.
It may be recalled that MMC had issued notices to several old buildings asking the occupants to vacate the premises citing the old structure is in dangerous condition. But the MMC has not given any option to repair these old structures or to restrengthen these buildings.
The notices served to the people have only managed to create some fear among the minds of the occupants. In a city like Vasco to own a house or a flat quickly would need lakhs and crores of rupees. But whether these occupants are in a position to vacate these old structures and make their arrangments for shelter remains a big question.
Comment