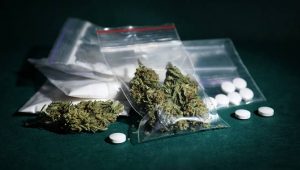 Goemkarponn Desk
PANAJI: The internationally acclaimed beach belts of Calangute, Anjuna and Pernem seems to be the hot spot of drug trade activities.
According to police, these beaches accounted the most number of drug cases every year.
Goa police have seized drugs worth Rs 10.26 crore from 2021 till date and arrested 403 persons involved in drug trade.
The coastal state receives a high footfall of foreign tourists, especially Russians. And, some of them are nabbed from time to time by the police for allegedly selling narcotics or for their involvement in online gambling.
Total of approximately 408 Kg of drugs of different types varying from ganja to charas, cocaine, LSD, Ecstasy, MDMA, Methamphetamine etc were seized during the raids.
Of the 403 arrested, 103 are Goans, 61 are foreign nationals and 243 are from other states in India. Majority of the foreigners arrested are African nationals.
As per official records, 168 cases in 2017, 222 cases in 2018, 219 cases in 2019, 148 cases in 2020 , 121 cases in 2021, and 154 cases in 2022 have been registered under the NDPS Act.
The coastal state, Goa known for Sun-Sand-Sea, has emerged as a haven for narcotics trade, which is flourishing and resulting in deaths of visitors.
With the recent death case of BJP leader Sonali Phogat, who was allegedly forced to drink water mixed with 'Methamphetamine' has suggested that drugs are very easily available in the state.
Though the government claims adoption of a zero tolerance policy against drug trafficking and surprise checks in bars, restaurants and shacks along the drug-prone belt, drug related deaths and such incidents continue to happen in the coastal state.
It is generally believed that drugs came to Goa with the hippies six decades ago, however since then Goa continues to be haven for narcotics. Many beaches of Goa were thronged by the hippies before and now domestic tourists too visit Goa and fall prey to drug peddlers.
Recently the Narcotics Control Bureau (NCB) busted an illegal laboratory manufacturing psychedelic drug LSD in Goa and arrested the main manufacturer after seizing banned substances worth Rs 25.17 lakh.
Comment