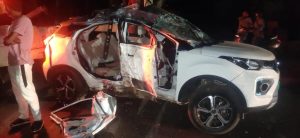 Goemkarponnd esk
MARGAO: Another fatal accident takes away more lives. Law Enforcement Authorities failure in Controlling Violations stands exposed. Drunken Driving continues, Tinted Car carrys Dead Body across border & Police remain cluless. Will Chief Minister Dr. Pramod Sawant fix responsibilities or continue with blame game? questioned Leader of Opposition Yuri Alemao.
Reacting to the fatal accident at Porvorim which killed three persons are critically injured two, Leader of Opposition said "this needs to stop once & for all".
It appears that BJP Government has still not learnt lessons from the fatal accident at Banastarim allegedly due to drunken driving. Accident at Porvorim brings to fore that Law Enforcing Authorities were in deep slumber when they should actually remain awake, Yuri Alemao said.
Two days back a dead body was carried in a tinted vehicle outside Goa crossing border. It is loud and clear that Police, RTO, Excise Department officials at the Check Posts either connived with the killers of the girl or failed in their duties. Such irresponsible attitude of the authorities result in criminal incidents and fatal accidents claimed Yuri Alemao.
Familes are getting shattered. I appeal to the Youths to behave in a responsible manner. My request to parents to keep an eye on their Children. Let us all realise that over adventurism results in bad end, Yuri Alemao said.
As there is no hope from the insensitive and irresponsible BJP Government in Goa, time has come for the Citizens to adopt to disciplinary lifestyle. I humbly appeal to all Goans to remain safe, said Yuri Alemao.
Comment