– Borim roadside greets tourists with a foul stench
– Ponda locals demand action against violators and CCTV vigil
---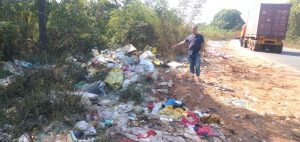 Goemkarponn desk
PONDA: The Toruisds arriving in Ponda Taluka are greeted with dumps of garbage, emanating foul smell on the roadsides at many places of the 3-km stretch of Bethora Borim Bypass.
Locals have christened this place as the Mini-Sonsodo of Ponda. Sonsodo is a huge garbage dump in South Goa.
Local activist Viraj Sapre demanded CCTV along the road stretch to keep a vigil on culprits involved in dumping the garbage. He called the garbage dump a mini Sonsodo.
Sapre demanded that the Borim and Bethora Panchyat bodies take action against culprits involved in dumping garbage which gives a foul smell and poses a threat of health hazards.
"Almost all kind of waste is dumped at the roadside, including domestic and construction waste. Right from the Tisk-Usgao bypass, Bethora Borim Bypass, Bythokhol road and the road leading to the inter-State KTC bus stand at Ponda greets tourists with an unpleasant look," he said.
He said it has been many years since this scene prevailed but now causing garbage menace.
Though Panchayat bodies collect garbage waste, the menace of violators continues.
They clean their homes, collect garbage and throw it on highways and internal roads in isolated areas; however, it is an eyesore for visitors in Goa, where it is often preached that Goa is a beautiful state, Sapre says.
Comment