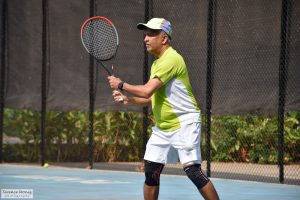 Goemkapronn desk
PANJIM: Anurag Agrawal, Krishna Volvoikar and Sameer Kakodkar scored one-sided victories in their respective categories in the first edition of TNS Panjim Gymkhana all-Goa tennis tournament at Gymkhana courts, on Monday.
In the men's singles, Anurag outclassed Kshitij Garg 6-1 in a one-sided affair. With a booming serve and equally good volley up his sleeve, Anurag cruised to victory in the one-set match of the first round.
Krishna Volvoikar beat Arhan Gaonkar 6-1 in one of the commanding victories of the day. The Porvorim-based Krishna enjoyed the way he logged in the first serves and aces. His opponent Arhan looked hapless at times as Krishna hit his powerful double-handed backhand shots.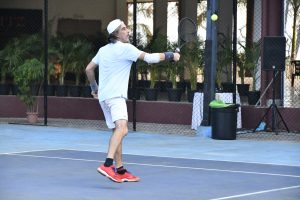 In the men's 45+ singles event, one of the long-serving state tennis association office-bearers Sameer Kakodkar proved unstoppable as he crushed Mackinlay 6-0.
Tennis in Goa looks in safe hands when one sees kids taking to the exciting racquet sport, with passion to build on. Devansh Naik, aged eight years, is one of the participants in the under-18 event. In his first round match against 11-year-old Avanish, there was no upset. Yet the boy stood out for his attitude where he put up a fierce fight in the 3-6 loss.
In another U-18 match, Darsh Pai outplayed Noah Carvalho 6-0. While Darsh was having it pretty easy with majority of the points, Noah showed a bit of stomach for a fight and scored some impressive points.
Other results: Men's singles: Kishor Metry beat Laxman Alway 6-2, Saurabh Trivedi beat Eugene D'silva 7-6(4), Bhalchandra Gaitonde beat Pratham Fadte 6-4, Mackelroy Barreto beat Aditya Chodankar 7-5.
45+Singles: Manoj beat Kedar 6-0, Dimitry beat Laxman I. 6-3, Rajnish beat Rajesh 6-2, Gaurish beat Bhaskar 6-1, Anupam beat Nitesh 6-1.
Comment