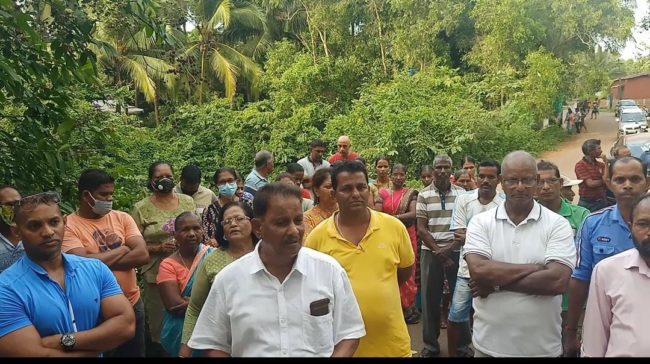 Goemkarponn desk
QUEPEM: The villagers, along with the Panch members of Avedem-Cotombi, protested to oppose the TCP permission to expand Adinco Distillery outside the Adinco distillery industry.
During the protest, villagers also said that if the authorities are not respecting and consider the peaceful protest to stop the expansion of the industrial zone in the Avedem panchayat area, which they have been protesting for the last ten years, then people warned the authorities that the people would hold protest outside the TCP office Quepem.
According to the locals, this issue has affected their village for 13 years. People don't want this project expansion because the project would destroy the village, health and land.
Avedem Sarpanch Aallelujah Alphonso, other panch members and the villagers of Avedem came on the road to protest against the declaring an Industrial zone in their village.
People feel that if the Industrial zone is sanctioned, it will destroy houses, wells, and water bodies.
Sarpanch said that almost the entire village is under the zone, and people will not allow it to happen.
Savio Alfonso said Initially, it was a processing unit. Still, now they are trying for a substantial distillery project which will lead to the destruction of the village in all aspects. If the concerned authorities are not serious about this issue then panchayat along with villagers are ready to take legal action.
The permissions that have been taken from the departments have bypassed the panchayat body.
Fatima Fernandes, a local from the village, said we do not need the industrial zone at the expense of our village.
"Our ancestors have lived in these conditions, and we will also live happily," he said.
Joe Fernandes, a local, questioned how the owner got this permission.
He questioned the TCP department, who was the TCP minister during the last term.
Local, Vishal Desai said Adnico Distrilieries Expansion marked as industrial Zone Avedem Villagers Highlighted the Adinco Distillery issue which is long pending issues people are objecting for this until from 2009. Many resolutions have been passed against this project, but Government Authorities neglected and bypassed the Panchayat. Town and Country Planning Department has given the technical clearance for the same task without proper study, and the time has come that the villagers have to come on the street. Around 3000 seq meter area has been marked as an industrial zone in the middle of the village.
Comment