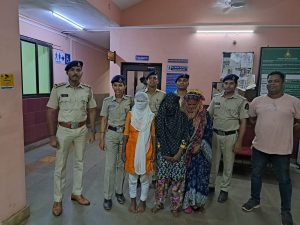 Goemkarponn desk
VASCO: Vasco police apprehended a group of 3 women for attempting to steal money from the cash counter of a wine shop at Baina, Vasco, by sending a child inside the shop by diverting the attention of the person at the counter.
The 3 women approached the wine shop along with 2 children stating that they wanted to buy beer. While the person at the counter was busy, the child who accompanied the woman came inside the shop and removed money from the cash counter.
Before the child could run out with the money, she was caught by the alert wine shop employee. But she managed to run out of the shop along with the women accompanying her.
The owner, upon receiving the information, submitted the CCTV footage to the PCR van. Police managed to locate the group and apprehend them.
"Modus Operandi of them is they are going to any shop, keeping owner busy in talking and sending their kids to the counter from inside and committing theft of cash from the counter," said Vasco Police.
Police said that these three ladies went with their kids to a wine shop and kept the owner busy discussing liquor, and when the owner was busy showing them bottles, a kid went inside near the counter and was supposed to steal money owner caught. After that, they left the spot, and after that the owner informed us, and the police managed to apprehend them near the railway station.
After they were taken into custody during the enquiry, it was revealed that there was a gang of more ladies and two males. And two more ladies were caught and arrested under 41 CrPC.
Comment