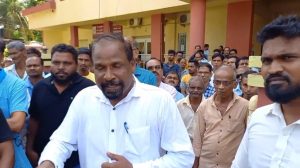 Goemkarponn desk
PANAJI: The residents of Mudder-Khandepar today called upon the Scheduled Tribes commission urging for necessary directions to the government to withdraw Section 144 imposed in view of ongoing construction of the drinking water barrage.
The villagers, comprising 90 per cent of ST population, raised apprehensions with regards to section 144 imposed in their village. The villagers claimed that due to the section, they are unable to celebrate Ganesh festival with much enthusiasm and also carry out religious activities of Devi Satri.
The villagers also demanded action against the Deputy Collector claiming that he is one of the interested party and that he and his family members are involved in harassing the ST locals.
"Collector may be informed to withdraw the section 144 due to Ganesh Chaturthi and to carry out various religious activities in the Sateri Temple and there should be action against the Dy. collector as he is interested party," said Rama Kankonkar.
He further said that Khandeparkar and his family members are involved in harassing the Scheduled tribes and villagers of Khandepar by misusing the power.
"He needs to be immediately transferred as there is fear and anxiety in the minds of the Scheduled tribes of khandepar that he may do further do harassment to the Scheduled tribes," said Kankonkar.
The villagers said that it majorly it affects the livelihood of the Villagers. It is further informed that within 150metre there is Sateri temple, and second Sateri temple is within the Ikm of the proposed site wherein Scheduled tribes carry out religious activities.
The Scheduled Tribes of Khandear peacefully opposing the barrage proposed by Water Resource Department due to threat to the villagers livelihood .Dialogues between the WRD and Villagers were peaceful. Villagers had raised certain queries/issues with the WRD which are still unanswered.
"When people came to know about the project they strongly opposed the Barrage and written communication was given to the Panchayat. Panchayat withdraw the permission given to the Water Resource Department," villager said.
Comment