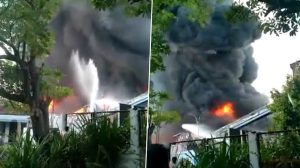 Goemkarponn Desk
PANAJI: While an official investigation into the major fire at Berger Becker Coating Pvt Ltd. ruled out the possibility that the mishap was caused by foul play, the report highlighted the company's failure to provide its factory workers with hands-on training, the timely intervention of which could have prevented the fire from spreading through the premises.
In response to a question about industrial accidents, Minister Godinho told Assembly that the "catastrophic" fire was probably due to an electrical system failure.
"Although the probable cause of the fire is a failure of the electrical system, the extent of the property damage and the loss of government and private funds would have been less if the workers working there had fought the fire immediately," he said.
This resulted in a violation of the provisions of the Factory Law," according to a four-page report submitted by the minister on Friday. The request was submitted by opposition leader Yuri Alemao.
The report reiterates that workers did not receive hands-on training in dealing with fires, and notes that the firefighting team sprayed water on the exterior of the warehouse without anticipating the extent of combustible materials inside the building.
The investigation found no evidence of intentional acts or third-party involvement in the fire, leading to the conclusion that the possible cause of the fire was an electrical defect.
The factory estimated the damage at around 60 million rupees, as it took about four days to fully extinguish the fire with the help of firefighters from six fire stations, including the headquarters.
In one of the largest firefighting operations at an industrial plant, several liters of water and other extinguishing agents were used, and about a dozen fire engines were deployed.
Comment