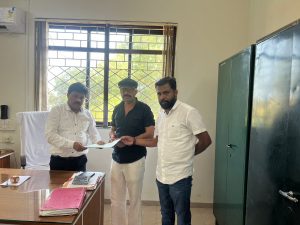 Goemkarponn Desk
CANACONA: In a tit-for-tat, Janardhan Bhadari and Vikas Bhagat who are booked reportedly at the instance of pressure from Speaker/Canacona MLA in a PWD Engineer locking incident, have retorted by filing a complaint with the Forest Department for illegal felling of forest trees by Canacona MLA Ramesh Tawadkar in connivance with some forest officers.
Congress leader Janardhan Bhandari and Goa Forward Party Environment Cell Chairman Vikas Bhagat submitting a memorandum -filed a complaint with the Dy. Conservator of Forests (South) Dyaneshwar M Kudalkar against Speaker Ramesh Tawadkar and Forest Officials for illegall cutting of protected forest trees.
Janardhan Bhandari and Vikas Bhagat submitted a memorandum to Dy. Conservator of Forest, Margao demanding to file FIR within next 24 hrs against Canacona MLA and Top Forest Officials for illegal tree cutting and illegal transportation of wood.
The complaint statingdiscovery of huge quantity of unmarked timber in the government owned carpentry unit/Saw Mill in Canacona illegally cut from protected forest trees like Teak, Matti, Nanno, etc for illegal processing informed a video statement of the carpentry incharge emailed on the forest department site.
The person in the video is stating no paperwork is done of the wood,, clearly implicates top BJP leader, Canacona MLA and Goa Legislative Assembly Speaker Ramesh Tawadkar, for the brazen crime. The person also states in the video that when he demanded to see paperworkd/forest pass of the wood, he was told to process the same as ' top forest officials are aware of the it' and that he cut/processed the illegal logs out of fear as Mr. Tawadkar is a powerful person.
Prime-facie, it is clear that the unmarked wood has been illegally cut and illegally transported. It is clear that the wood is intended to be used for private purposes. There are all serious violations of various sections of the Forest Act and what is more serious is involvement one one MLA who is supposed to uphold law is involved in illegal activities by violating all laws.
The complainants stating the seriousness of the crime and involvement of one elected MLA demanded to immediately file FIR under stringent sections against the speaker Ramesh Tawadkar and the 'Top Forest Officials', who are implicated In the video statement. Further stating the MLA and top Forest officers are involved in heinous crime, they will make all out attempts to destroy evidence, to destroy theseillegal woods and thereby weaken the case to escape.
'therefore, we demand to act quickly and take all necessary efforts to file FIR within the next 24 hours in this crime of brazen destruction of goa's environment, otherwise we will be forced to take further action to protect the environment of goa and to avoid such crimes by elected MLAs/ representative in future', ends the complaint with signature of Bhagat and Bhandari.
Interestingly, the copies are kmarked to President of India, Rashtrapati Bhavan, New delhi, Prime Minister of India, New Delhi, Governor of goa, Panaji, Union Minister for Environment , Forests & Climate Change, New Delhgi, Chief Minister, Goa-Panaji, Minister for Environment , National Green Tribunal , New Delhi, , Lokayukta, Institution of Goa Lokayukta, goa,, Chief Secretary of Goa, inspector General of Forests, New Delhi, ifs ,oPrincipal Chief Conservator of Forests, Panaji and ifs chief Conservator of Forests, Panaji
Comment