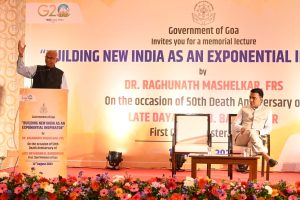 Goemkapronn desk
PANAJI: Goa's first Chief Minister Bhausaheb Bandodkar was an institution and even though he is not amongst us, he is everywhere, said noted scientist Dr Raghunath Mashelkar.
Dr Mashelkar, FRS giving his lecture said "Dr. Bhausaheb Bandodkar was an institution. Although he is no more, he is everywhere for us. Bhau helped Bahujan Samaj to take higher education in the State. Within a very few span of time Bhau spread education in society."
He said the most powerful equation scientists have created is E = F i.e. Education = Good future, according to me. Actual equation is not even E=F . It is actually E = Opportunity, he observed.
Dr. Mashelkar gave many examples of Exponential and added that digital Payments increased during the pandemic period. We have to keep this growth of being exponential, he added.
Stressing the need to use technology to alleviate the condition of the poor, he said the parachute works only when it's open. Same way minds work only when it's open. Everyone should get up in the morning and say to oneself, "I will give my best. Best for not just myself, but Best for society and Goa", he added.
Chief Minister, Dr Pramod Sawant cherishing the memories of Late Dayanand Bandodkar highlighted the major contribution made in the fields of Education, Tourism, Industries etc. towards welfare and development of Society.
Speaking at the memorial lecture organised by Department of Information and Publicity to observe the 50th Death Anniversary of the first Chief Minister of Goa, Late Dayanand Bandokar on the theme "Building New India as an Exponential Inspirator" in the city yesterday, Dr. Sawant said that similar inspirational series will be organized throughout the year. After 50 years, the Government has taken up the work of renovation of Samadhi Bhausaheb Bandodkar and assured to complete it within one year.
This year Bhausaheb Bandodkar Football tournament will be re-started in the State in association with Goa Football Development Council (GFDC) and Goa Football Association (GFA), he added.
Prasad Lolayekar, IAS, Secretary of Education, Government of Goa welcomed the gathering similarly Dipak M. Bandekar, Director Directorate of Department of Information and Publicity proposed the Vote of Thanks and Dr. Ajay Vaidya compered the Function.
Member of Parliament, Sadanand Shet Tanawde, EX-MLA, Ramakant Khalap, family members of late Dayanand Bandodkar were among those present on the occasion.
Comment