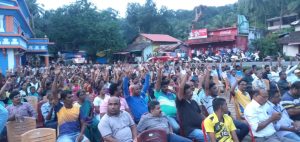 MLA Vijay Sardesai says Central Government is ready to change road NH alignment at Bhoma with bypass but State government and Ministers are against it
Goemkarponn desk
PONDA: Following the call by Dhazan Samaj Committee, the villagers of Bhoma, Nagzar and Kali Mati took an oath in temple premises to protect village and foil the Government plans for highway expansion of the Village.
The development came after land acquisition notice for 64 houses and two temples the Bhoma Locals in public meeting held at Sateri Temple premises showed their strength and shouted slogans saying Amcho Gao, Amka Zaay, Amkaa Zay ByPass. (We want our village, We want bypass to save village).
Two Opposition MLAs Vijay Sardesai and Viresh Borkar were present, however local MLA and Minister Govind Gaude and Bhoma Sarpanch were not present for the meeting.
The meeting was attended by around 500 locals.
Villager Sanjay Naik said the proposed expansion would only protect interest of builders.
Deputy Sarpanch Shaila Naik said the PWD did not explain the expansion plans properly. The other locals too said that they were kept in dark by Authorities and they were just told four houses would affect but now it appears village is going to destroy after notice for land acquisition.
MLA Vijay Sardesai started his speech targetting Shahajahan land and launched attack on BJP government stating the Hindutva is fake and there is need to throw out this Government.
"If BJP is Hindutavadi Party, why it is not saving Bhoma village and its age old temples from highway expansion. Why they divide villages into two pieces for highway expansion?" he asked.
He said normally government construct bypass to save village but only Bhoma Village is exception to this.
"Their policy is to divide and rule and loot the people," he charged.
He said even Central Government is ready to make change in alignment with bypass for Bhoma but our Ministers and Goa Government don't want it to protect interest of rich people.
He said this BJP Government even forgot legacy of Manohar Parrikar, who assured bypass for Bhoma.
He said bypass was proposed but in past after introduction of section 16 (B) in town planning act one industrialist filed application for zone change and asked to delete bypass for Bhoma to protect his interest. "Money is become everything for Goan politicians and even ready to sell god for money," he stated.
MLA Viresh Borkar said PWD Minister Nilesh Cabral says only four houses in assembly but land acquisition notices goes to 64 people.
He cited during Highway expansion in his constituency several people lost their land, houses and not even got compensation for want of proper documents.
He alerted Bhoma locals that similar case may happen with them if they don not stand unitedly.
He assured his full support in battle.
He said BJP adopting divide and rule policy of British. The Bhoma locals need to be brave and tell government that they are not in Portuguese rule.
Comment