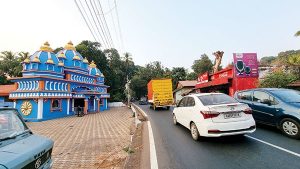 Goemkarponn Desk
PANAJI: Notwithstanding the protest by the Bhoma villagers, the state government has issued notice for land acquisition for the proposed widening of National Highway road at Bhoma.
As per the notice of PWD, The Ministry of Road Transport and Highways has made declaration of acquisition of land, measuring an area of 35,314 sq meters for land acquisition for the work of widening of road between km 137/000 and km 139/500 to km 142/600 on NH-4A (NH-748).
PWD minister Nilesh Cabral on Wednesday said that only three houses will have to be demolished for the expansion of the highway at Bhoma. No temple will be affected, as claimed by the villagers, he said.
Cabral said that the rest of the houses that will be affected by the project are illegal encroachments that have come up on public drains.
"We cannot save the illegal encroachments that have come up on gutters. No temple is affected, as is being said. We have already made a presentation before the village gram sabha. When acquisition is done, we will acquire only as much area of each survey number as required for the work," Cabral had said
The part of Mollem-Patradevi NH4A proposed to pass through Bhoma village is facing continuous opposition from the villagers fearing loss of their local businesses, destruction of holy architectures (temple, Tulsi Vrindavana, tree) and age-old houses with the implementation of this project.
Sanjay Naik also alleged the Acquisition Division officer of the Power Works Department for not producing the actual layout plan before the locals.
Naik said, "Panchayat is by the people and for the people, and should always remain firm with the people. Despite waiting for the villagers to decide, as a public representative, the leader should lead the people toward the betterment of the village".
Adding further, Naik said though authorities are claiming this to be a stilt road, the overbridge construction will not only lead to acquiring the village road with channels but will also hamper the local businesses.
Comment