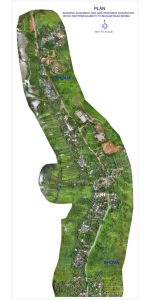 Goemkarponn desk
PANAJI: Teming the Bhoma villagers protest against the widening of national highway as political, PWD Minister Nilesh Cabral reiterated that no temples would be demolished for the project.
Giving a presentation to the mediapersons at his chamber in the State secretariat, Cabral said that the political leaders are trying to use the leaders to satisfy their own ego.
"Here I give you a drone shot of the entire alignment of Bhoma village, show me where and how many houses are coming under Right of Way. We are not acquiring any land apart from what is being marked," he said.
The minister maintained only four houses would be demolished and some gadas / stalls, which government has made plans to rehabilitate.
"Only four houses would be demolished and some 16-17 stalls, which will be rehabbilitated. The government would give the four houses occupants 300 sq mt of land and compensation to build houses," he said.
He, however, said that the government will not compensate or rehabilitate the encroachers on government land, which was acquired in 1991-92.
"I have sent the PWD engineers to the people to explain but they don't want to listen, if need be I will also go," he said.
On the land acquisition notices to 64-odd houses, he explained there is some misunderstanding.
"The part of land we are acquiring is in a huge piece of land in Survey no 6 and as per rules we have to issue notices to everyone in that Survey no. That does not mean we will acquire entire survey no. What we are acquiring in this survey is empty land and not the houses," he explained.
Cabral said that the opposition MLAs are instigating the locals against the project and there was no way for bypass from this village.
"The bypass what the villagers are talking is not feasible at all. It will be another case of road accidents like on Bambolim where the road was widened without application of mind," he said.
Cabral said that two temples at Bhoma which is being talked about are not being touched in any way.
"There is no acquisition of temples. Yes a land parcel of Malikarjun temple will be acquired but that is a vacant land with no structures. This does not mean we are demolishing temple," he explained.
He said the BJP opponents are srpeading all false stories to scrap the project.
Comment