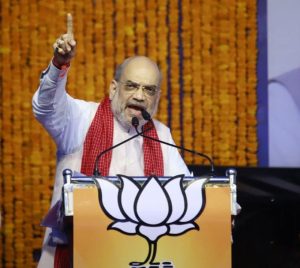 Goemkarponn desk
PANAJI: The BJP today defended Union Home Minister Amit Shah's silence on the Mhadei river diversion issue during his recent Goa visit.
While the opposition slammed Shah for his silence, BJP Minister Nilesh Cabral said that the party had raised the Mhadei issue with Shah in the past and that there was no need to speak on it during the public meeting at Farmagudi.
Cabral was speaking to the media on the sidelines of the eighth edition of the Science Film Festival of India at the Entertainment Society of Goa.
"We have spoken to Home Minister Amit Shah about the Mhadei issue, it's not that we had to speak to him during the public meeting at Farmagudi," said Cabral.
He further said that they had met him several times and will meet him again in future, and for the BJP Goa, the issue of Mhadei is very important.
"We are battling hard to save Mhadei. Mhadei tribunal being set up itself shows the importance.
The notification is come out, and it is a very important achievement for Goa and Chief minister Sawant," he added.
Cabral said that the Tribunal is like a Court, and it will decide on various issues.
"We are not against water usage within the basin but will never allow the water to be diverted outside," he added
Mhadei is considered a lifeline for Goa. It originates in Karnataka and meets the Arabian Sea in Panaji in Goa while briefly flowing through Maharashtra.
Earlier on January 12, a delegation of the Goa government, led by Chief Minister Pramod Sawant, met the Union Home Minister Amit Shah in the national capital over the Mhadei river issue.
Meanwhile, PWD Minister said that his aim is to give 4-5 hours of tap water to each household and that his department is working on that.
"24 hrs water will be later, but there are places where water doesn't even come for 4 hrs," he added.
Comment